Uncle Boons has some of the best Thai food in all of New York City – everything is incredible and so flavorful. It is one of our all time favorite restaurants!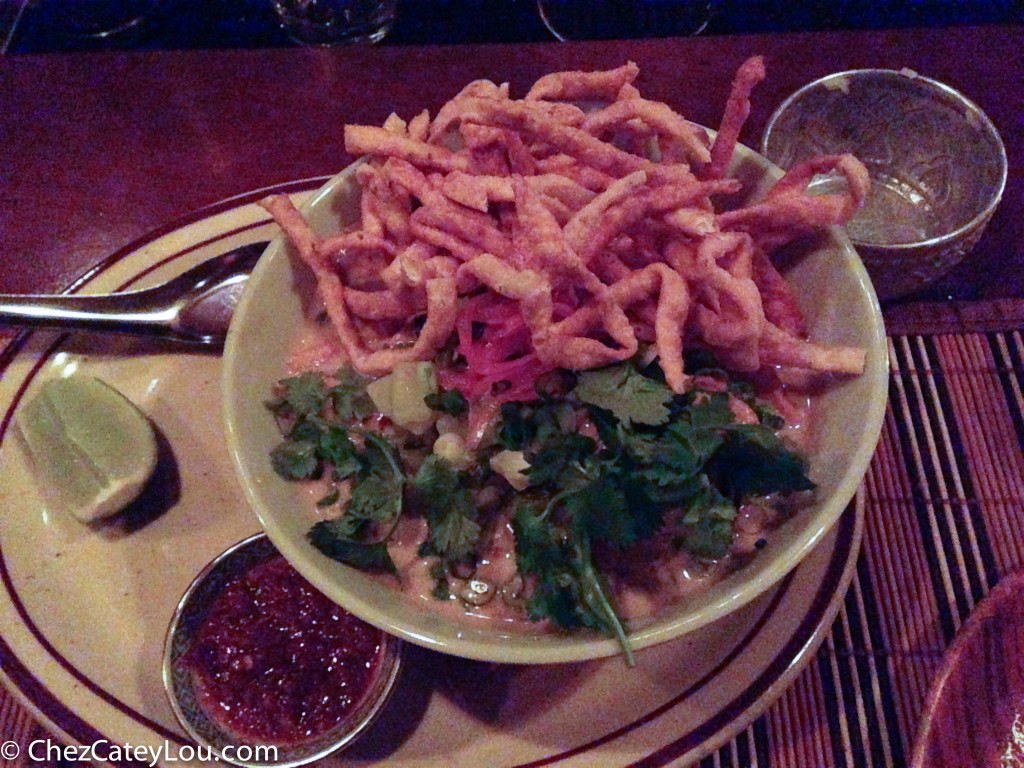 I have a lot of favorite restaurants in New York.  I usually qualify those statements to some degree; Sfoglia is my favorite neighborhood restaurant, Gramercy Tavern is my favorite restaurant to spend an afternoon, Mission Chinese is my favorite restaurant that inexplicably was shut down by the health department, and so on. But if I had to eat one meal in New York City right now, I'd go to Uncle Boons. So I guess that makes Uncle Boons my favorite favorite restaurant (at least for the time being).  So what is it about this Thai restaurant that makes it so special?
Uncle Boons is owned by the husband and wife team of Matt Danzer and Ann Redding, veterans of Thomas Keller's famous Per Se. Although the food at Uncle Boons is authentically Thai, you can definitely see the owners' fine dining background in their technique and presentation. The restaurant is located near Bowery Street in Nolita and is in in one of those storefronts that is a half block down from ground level.  Although I don't typically like restaurants that don't have a lot of natural light, somehow this adds to the authenticity of  Uncle Boons (though it does negatively impact the quality of our photos).
I also love the fun idiosyncrasies of this restaurant.  There's always goofy Thai-pop music playing and the walls are adorned with Asian movie posters that have been hilariously translated into English.   There's also a barrel-shaped machine behind the bar that makes "beer slushies" – frozen bottled Thai beer served with a straw.   And from the bar you can see chickens and cabbages rotating on a rotisserie and shrimp and blowfish tails cooking on a charcoal grill.
Cate and I have a lot of favorite dishes at Uncle (as we affectionally call it), but there are a few standouts. The best starter is the Yum Kai Hua Pli – a spicy chicken and banana blossom salad with cashews and crispy shallots. This is probably one of the most flavorful dishes I've ever eaten and definitely one of the spiciest.  It's one of those rare dishes that burns your mouth but is so good you can't stop eating it. In fact, on one visit to Uncle Boons Cate and I ordered it last – almost as a dessert – so that it didn't ruin our taste buds for the rest of the meal (yes, we realize how ridiculous that sounds).  My second favorite starter is the Laab Neuh Gae.  Likely the second spiciest thing on the menu, the Laab Neuh Gae is a minced lamb salad served with mint, shallot, cucumbers, and chili. This is an excellent version of a classic Thai dish.
For those less spice inclined, we recommend starting with the Green Mango-Avocado Salad or one of the many charcoal-grilled items. The prawns are particularly delicious and are served with a flavorful lime, garlic, and chili dipping sauce. Also, Uncle Boons is famous for their Grilled Blowfish Tails, which I swear we're going to try as soon as I convince Cate that they're not deadly.  (And in the slim chance they are deadly… um, avenge my death).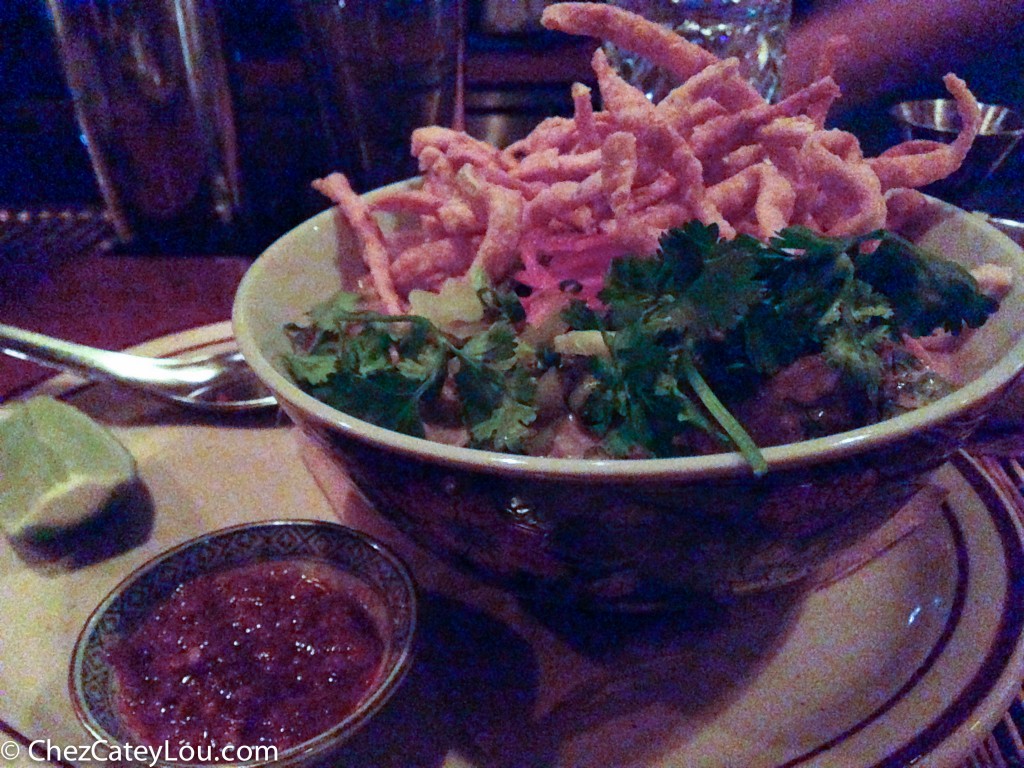 Moving onto entrees, Uncle Boons is home to my absolute favorite dish in New York City – the golden curry. The Khao Soi Kaa Kai is a curry with egg noodles, a roasted chicken leg, pickled mustard greens, and coconut milk.  The dish is incredibly flavorful but still feels like traditional comfort food.  The thick broth is so good I could drink it by itself.  I didn't even realize how much I liked coconut milk until I tried this dish!  It's a must order.  It's that good.
We also really enjoyed the Chuu Chee Hoi (scallops and mushrooms in a Thai sauce) and the Neuh Massaman (short ribs in a massaman curry).  The scallops had a great texture to them and were served in a spicy (but not chicken-and-banana-blossom- spicy) chili sauce.  It pairs great with some jasmine rice.  The massaman curry has a more subtle flavor than most of the dishes on the menu but is also very good.  The short ribs are nice and tender and it's great to sop up the sauce with rice or roti.   The one entree that was a bit disappointing is the Pet Palo, crispy duck leg.  While the duck was cooked nicely, the dish didn't quite have the same intense flavor as many of the other dishes we've tried.
Also not to be missed at Uncle Boons are the sides.  The water spinach with garlic and chilies is packed with flavor and is a great size for the price ($6). The roti bread pairs well with some of the less spicy dishes on the menu.  Just be sure not to order it with the chicken and the banana blossom salad – it's the definition of putting "salt on the wound."
The one negative about Uncle Boons is we've had some spotty service.  This would be a bigger problem if I wasn't busy voraciously eating everything in sight, but it warrants mentioning.  The restaurant only takes limited reservations so get there early in order to secure a walk in table.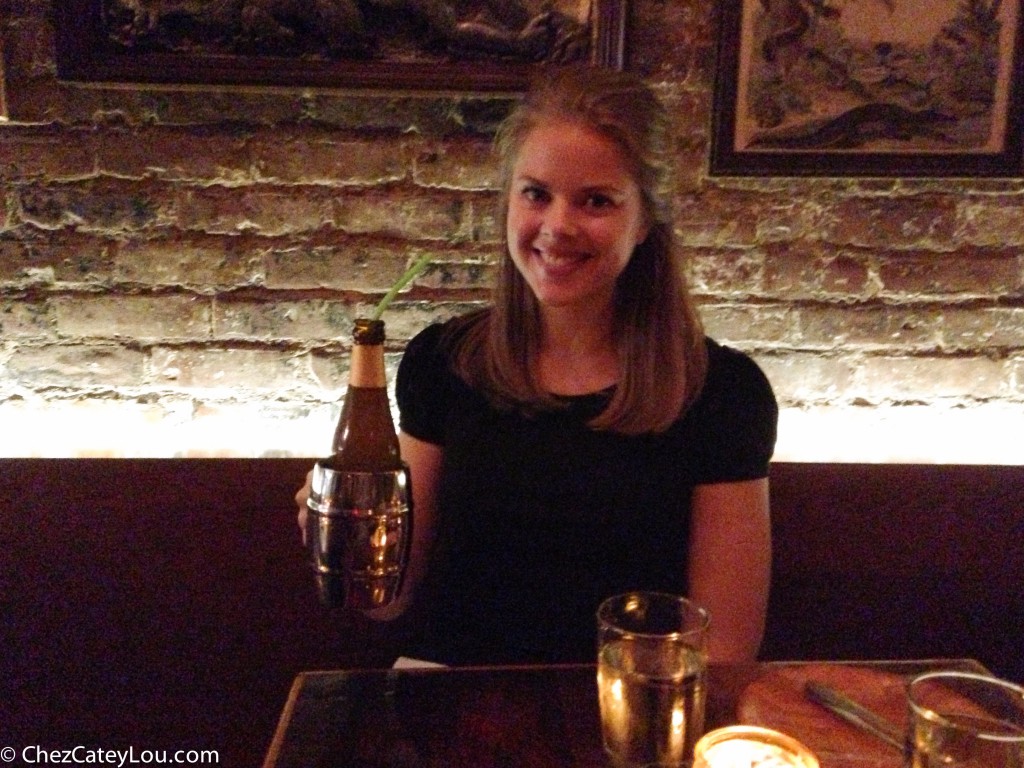 Uncle Boons
7 Spring Street (Elizabeth Street)
(646) 370-6650, uncleboons.com