RedFarm on Hudson Street in New York City is a modern Chinese restaurant in a rustic yet hip setting.  Delicious food and fun vibe.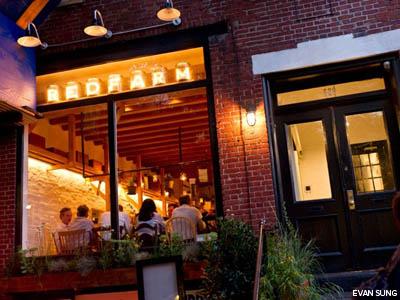 So far on Friday Dinner Series we've covered a few of our favorite Asian spots in New York City: the James Beard nominated Uncle Boons (ahem, we discovered it first, Mr. Beard), Ippudo, Momofuku Noodle Bar, and Momofuku Ssam Bar. But what about Chinese? With the recent rise in popularity of more exotic Asian cuisines –  ramen, Thai, Vietnamese, and of course sushi – Chinese food is often forgotten.  I mean, there's nothing trendy or different about Chinese food, right? You've got your General Tso's, some egg rolls, a heaping helping of MSG, and if you're feeling crazy, extra packets of duck sauce. But RedFarm has changed all of that and made Chinese food cool again thanks to incredible flavors and awesome twists on traditional dishes.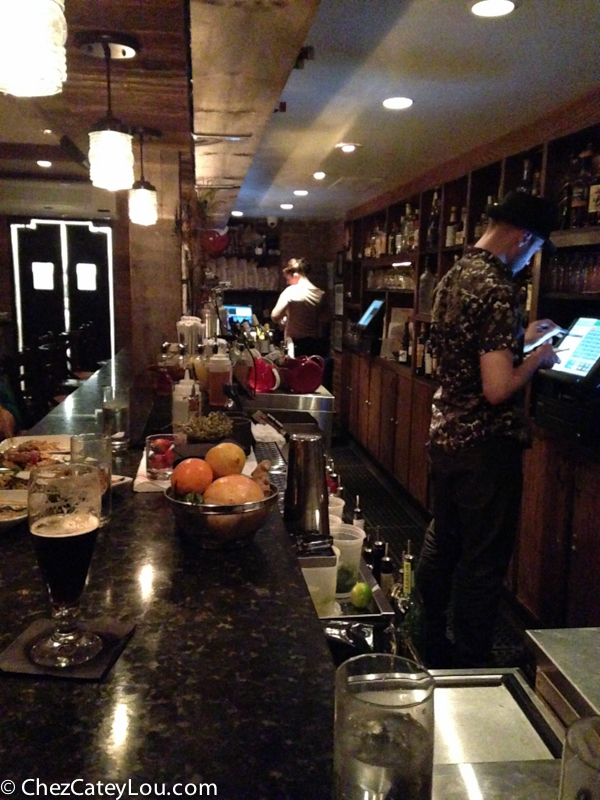 The original RedFarm is located in the West Village on Hudson Street – there is a second location on the Upper West Side. The restaurant does not take reservations so get there early or be prepared to wait. There are actually two floors to the restaurant, a downstairs bar room and a slightly more formal space upstairs. Both dining areas are mostly comprised of communal seating.   We chose to eat downstairs at the bar (I don't love communal seating – I need my elbow room).   It was obviously the perfect pick because later in the night Nathan Lane and his crew (not a particularly tough crew…) came in and sat down at the end of the long communal table.  And yes, it says a lot about how cultured I am that I still think of Nathan Lane as the guy who did the voice of the meekrat in the Lion King.
RedFarm specializes in dim sum, so we knew we'd have to order sum (I'm awful).   We started with the Spicy Crispy Beef, a house favorite.  I love all those adjectives (spicy, crispy, beef-y?) and the dish did not disappoint.  The beef had a great crispy texture and just the right amount of spice.  Also, as a pleasant surprise, the dish was bigger than expected and could definitely be shared by a few people (although Cate and I had no trouble polishing it off).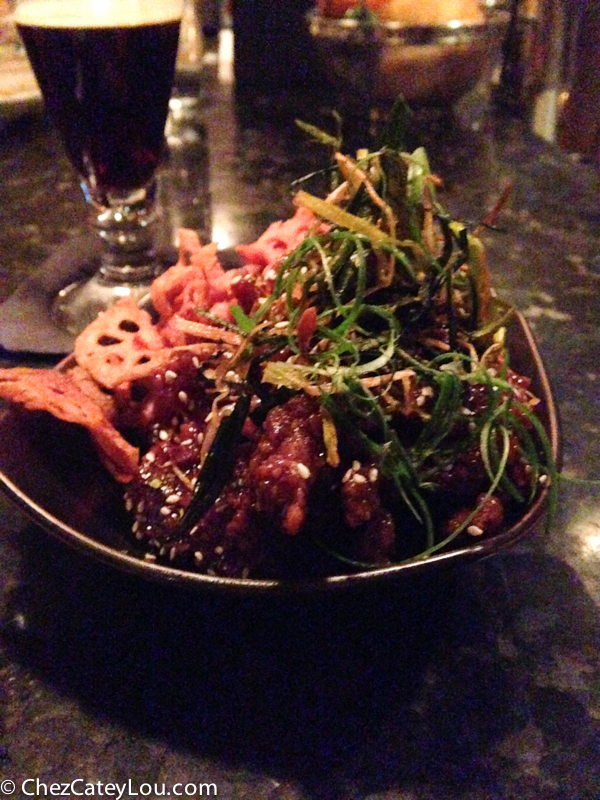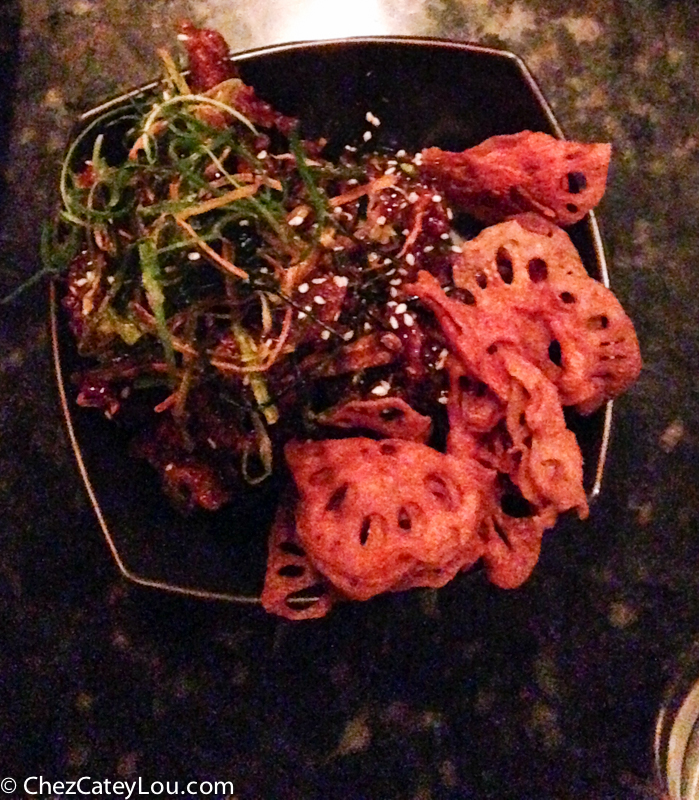 Next we had the "Pac-Man" Shrimp Dumplings.  In theory this dish is incredibly cool.  There are four dumplings, each one filled with shrimp and another ingredient (lobster, crab, leek, and bamboo shoot).  The dumplings are placed in a row, and each one bears a striking resemblance to the ghosts in Pac-Man (the dumplings are even different colors).  Then at the end of the plate there is a Pac-Man shaped tempura fried sweet potato in guacamole.  Visually it looks awesome.  Unfortunately, it was probably our least favorite dish of the night.  While the lobster and crab dumplings were great, the dumplings could have used  a dipping sauce.  And while I usually love guacamole, it felt out of place at a Chinese restaurant.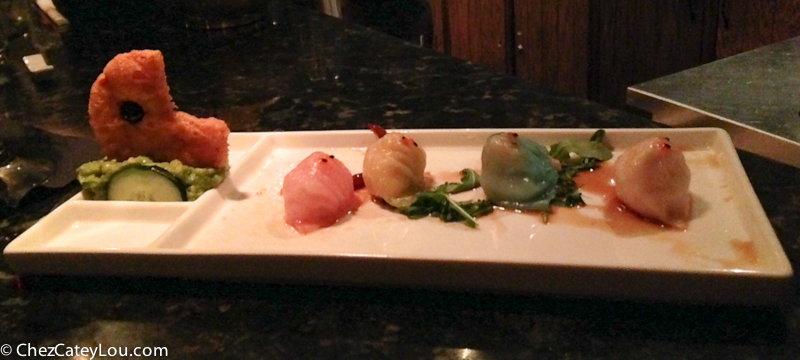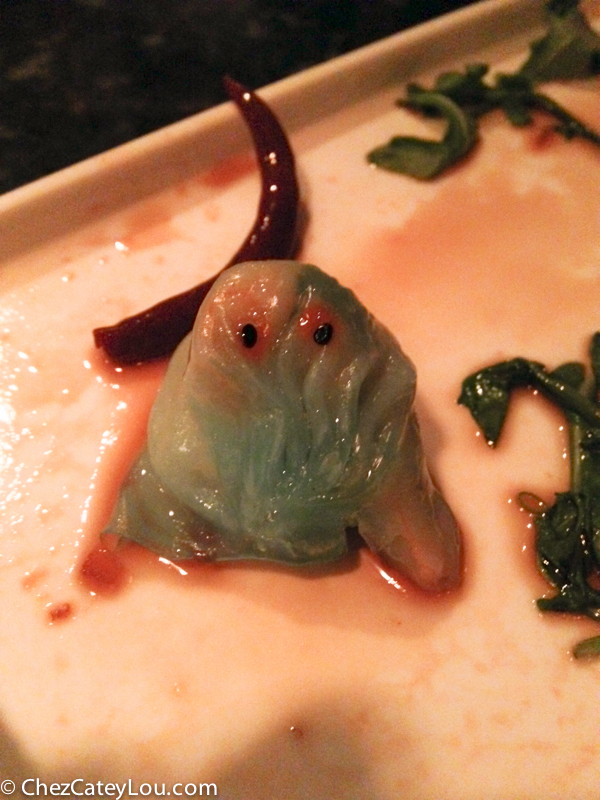 The Pork and Crab Soup Dumplings were up next.  Perhaps RedFarm's signature dish, the Soup Dumplings are as delicious as they are confounding.  Really, how do you get soup into a dumpling?  They're the "Ship in a Bottle" of the food world.  Logistics aside, the Soup Dumplings were one of my favorite bites of 2014.  The broth was so flavorful and went great with the dumpling dipping sauce that you pour on top.  The only negative about these dumplings is that they were a little messy to eat.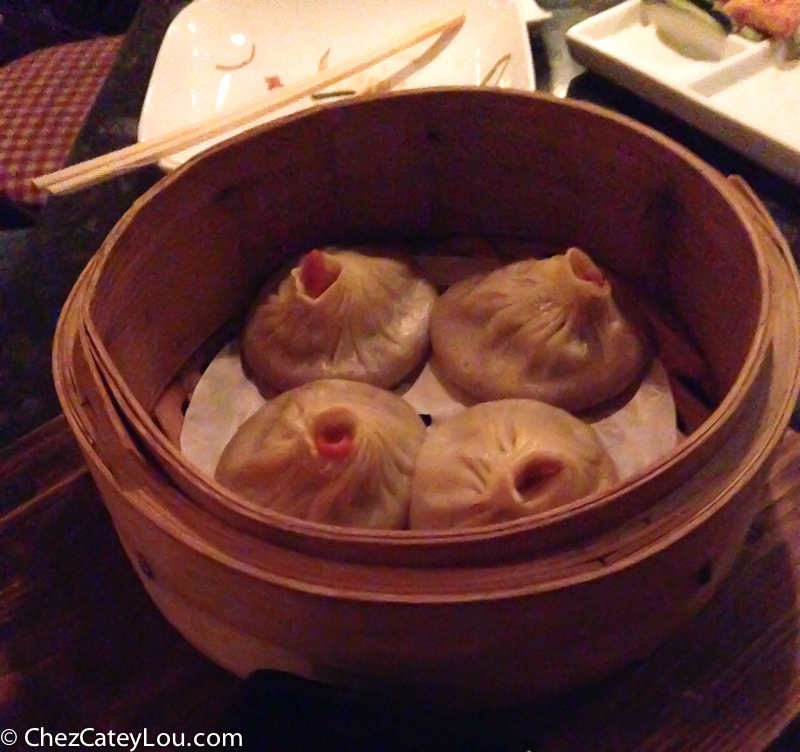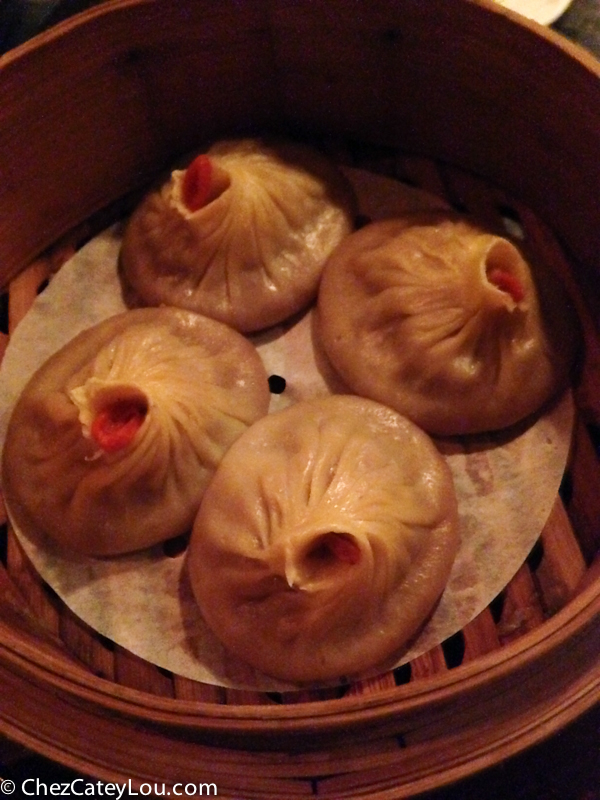 Our last dim sum was the Katz's pastrami egg rolls – and this dish is exactly as it sounds.  Katz's is a legendary Jewish deli in NYC and is particularly famous for their pastrami. At RedFarm, the pastrami is stuffed inside a crispy egg roll.  Somehow this Asian/Jewish fusion dish works.  It's even served with a Chinese mustard sauce.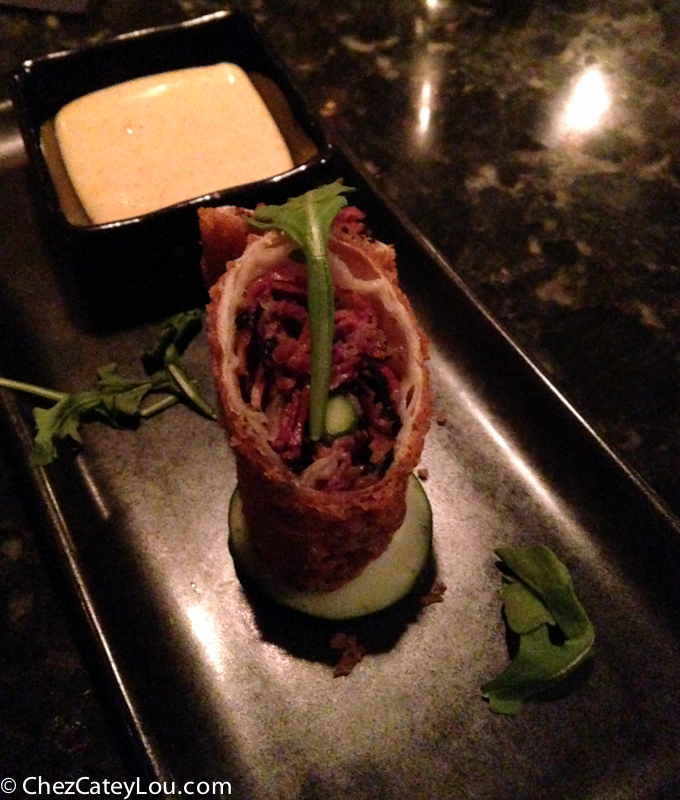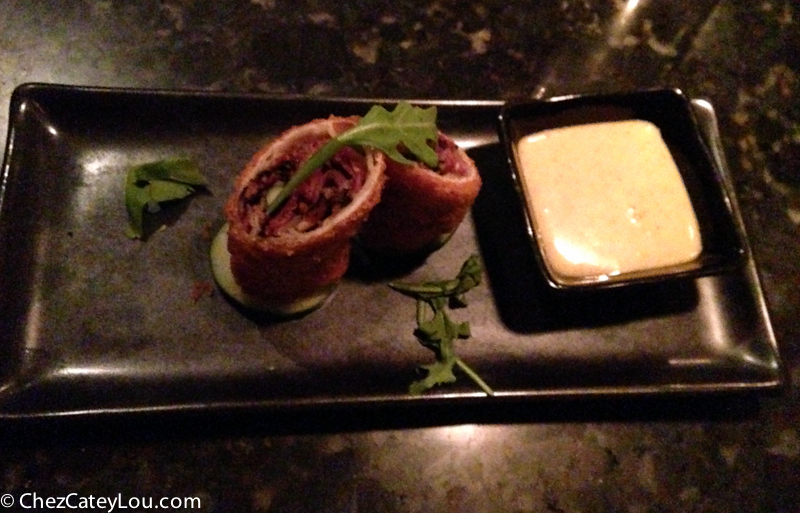 After all our dim sum, Cate and I split the Jumbo Shrimp Red Curry for our entree.  The shrimp comes with mixed vegetables and is served in a spicy red curry sauce.  Given the spice level, this dish would have fit right in at Uncle Boons, but it was also distinctly Chinese in its flavor profile.   It's a large dish with several shrimp and so much sauce that you'll need a side order of rice to mop it up.  And you'll want to too, it's that good.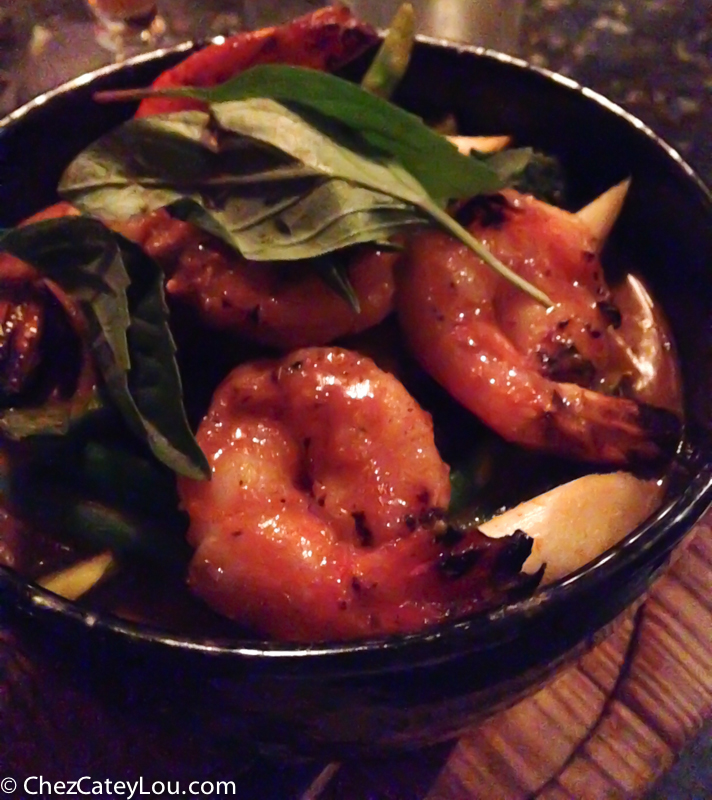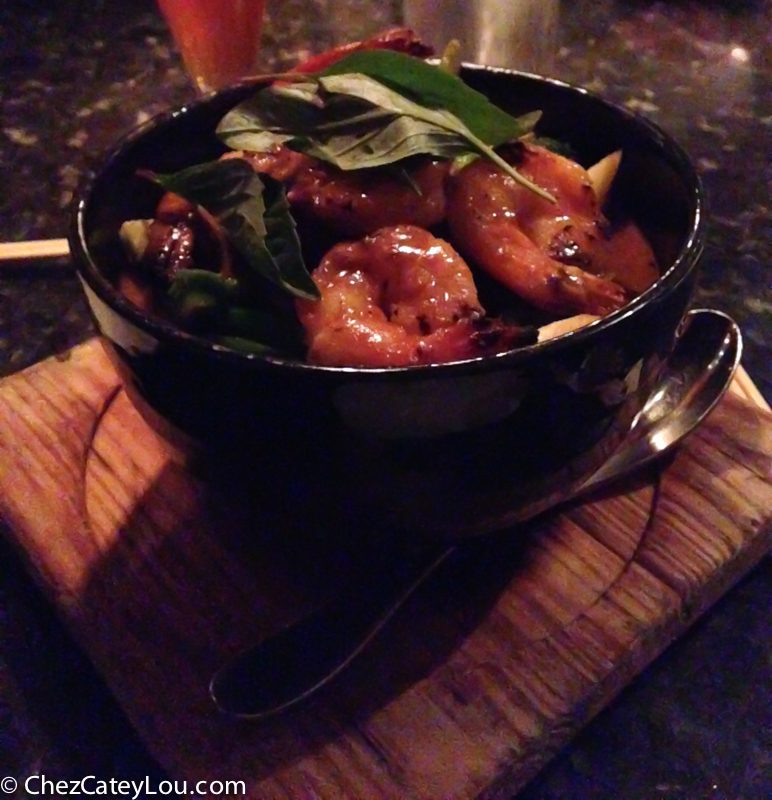 RedFarm
www.redfarmnyc.com
Address: 529 Hudson St, New York, NY 10014
Phone:(212) 792-9700