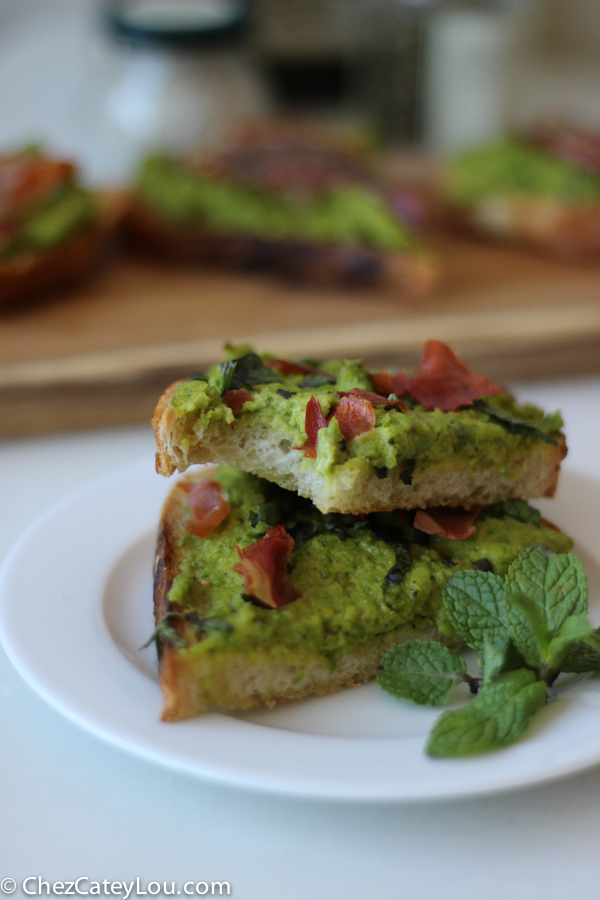 Oh wow, this month has flown by! I seriously can't believe it is already Feb. 28. And, already time for another Mystery Dish post! The amazing Christine from I Dig Pinterest picked the ingredients for us this month. They were:
Fresh Mushrooms
Pork
Spinach
Cream Cheese
Pineapple
Butterscotch Chips
Macadamia Nuts
Sriracha Hot Chili Sauce
Ritz Crackers
Tortillas
I was seriously considering making spinach artichoke dip with mushrooms and bacon, using cream cheese and sriracha, and having ritz crackers and homemade tortilla chips for dipping! But then I decided to settle down. No need to get so wild. Plus, I was dying to make this pea toast!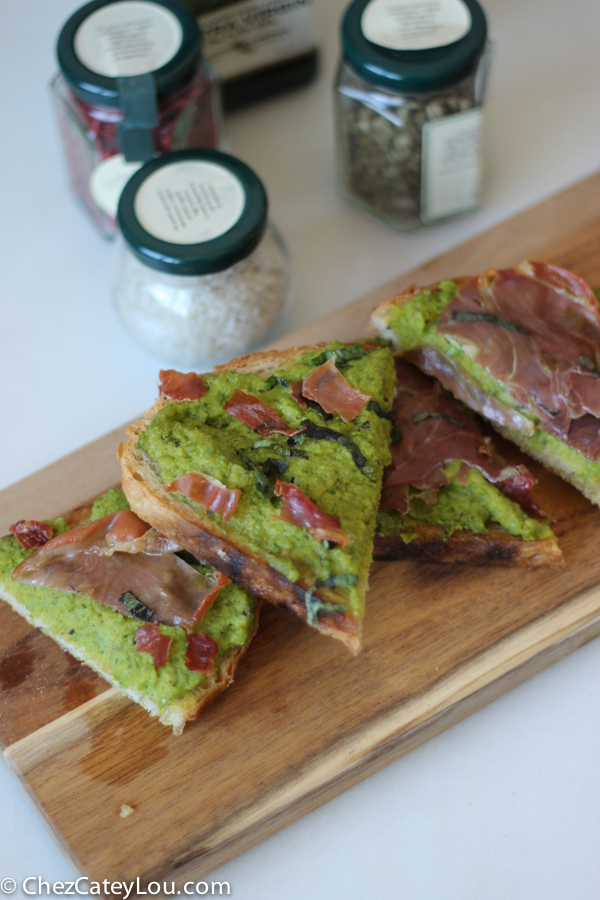 So where did I get the idea for pea toast? TheBetterHalf and I had dinner with his parents last month at a great restaurant in Philadelphia, Vernick.  All of their food is absolutely amazing, but we esepcially loved their toasts. I mean check out the menu – there are seven different types of toast on there! Each one sounds better than the next. The peas and bacon toast was a standout, so I was very happy when after a quick google search, I found the recipe!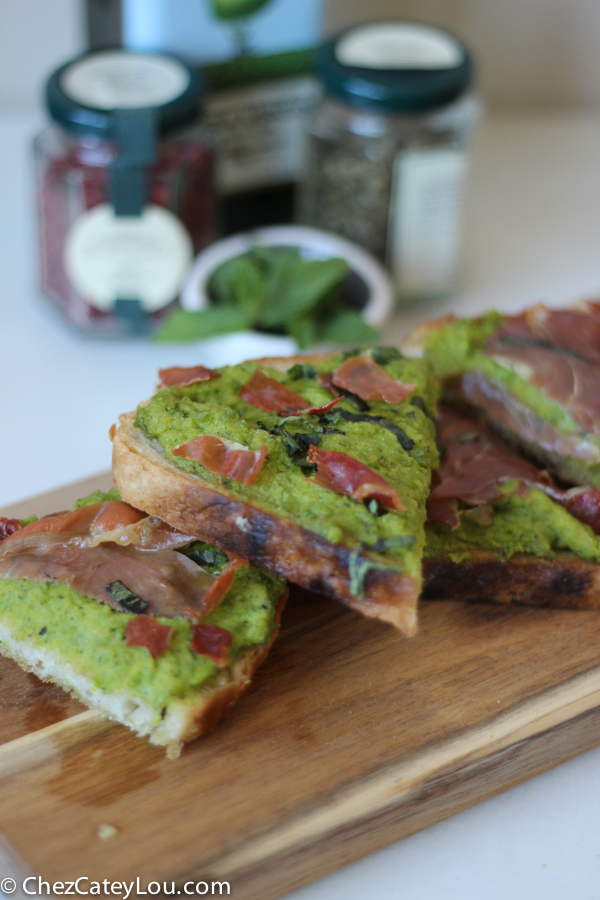 I am so excited to share it with you today for Mystery Dish, with a few little tweaks! I used three of the "Mystery" ingredients: cream cheese, sriracha, and pork (in the form of prosciutto).
So first, start out with a great loaf of bread. Might I suggest my no-knead loaf? That's what I used! But you can buy a nice loaf of sourdough or rustic Italian as well. Generously coat the bread with olive oil (there is a reason this tastes so good…) and toast it in the oven.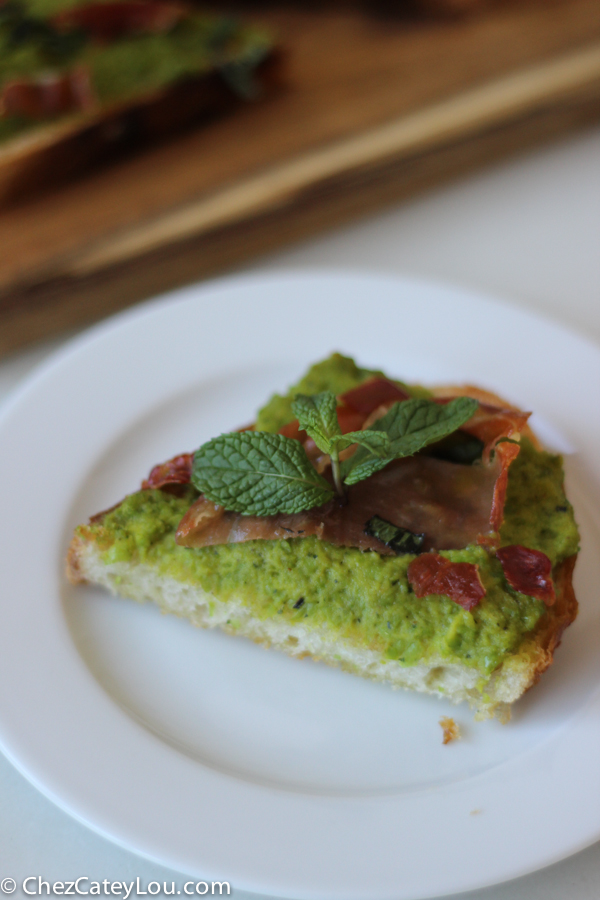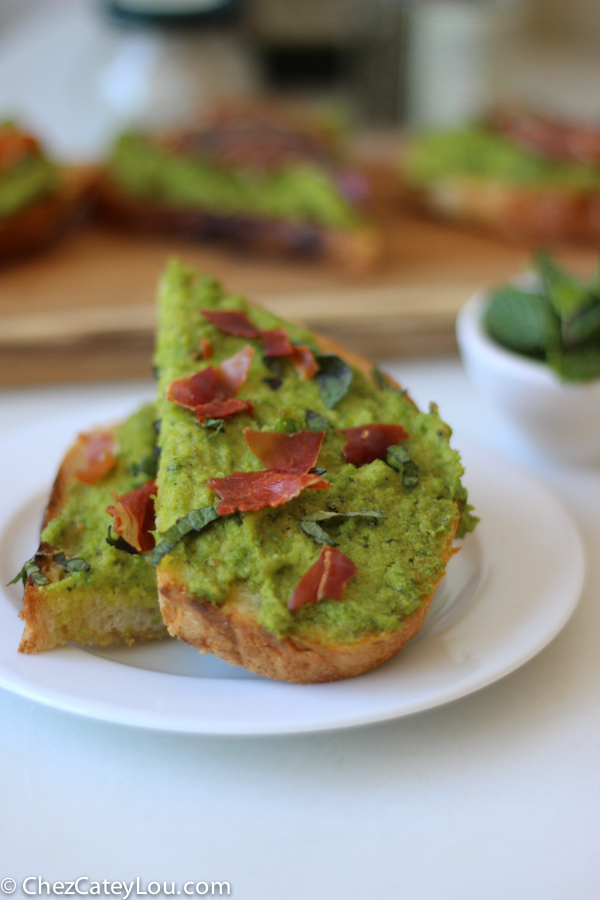 But before you start your toast, you have a decision to make. Do you want to cook the prosciutto on top of your toast, or would you prefer it super crispy and crumbled on top? I made it both ways, and while they were both good, we preferred the crispy prosciutto crumbled on top – crispy prosciutto is SO good. But you really can't go wrong, whatever you decide.
If you do want the crispy prosciutto crumbled on top, then place slices of prosciutto on a wire rack and set it on a baking sheet (cover the baking sheet with foil for easy cleanup). Then, just put it in the oven with your toast. After 8 – 10 minutes, the prosciutto will be ready. Take it out of the oven, and leave it at room temperature for a few minutes. It will crisp up more as it cools.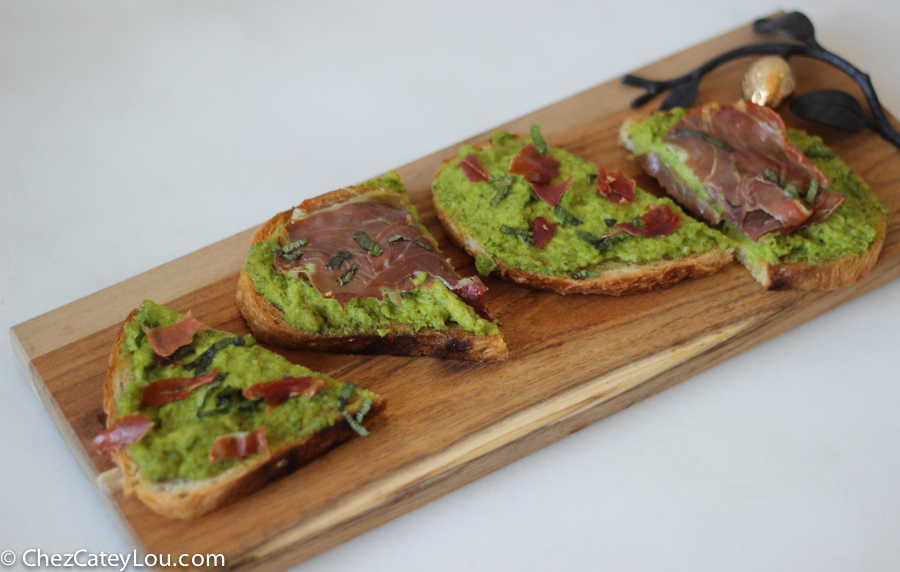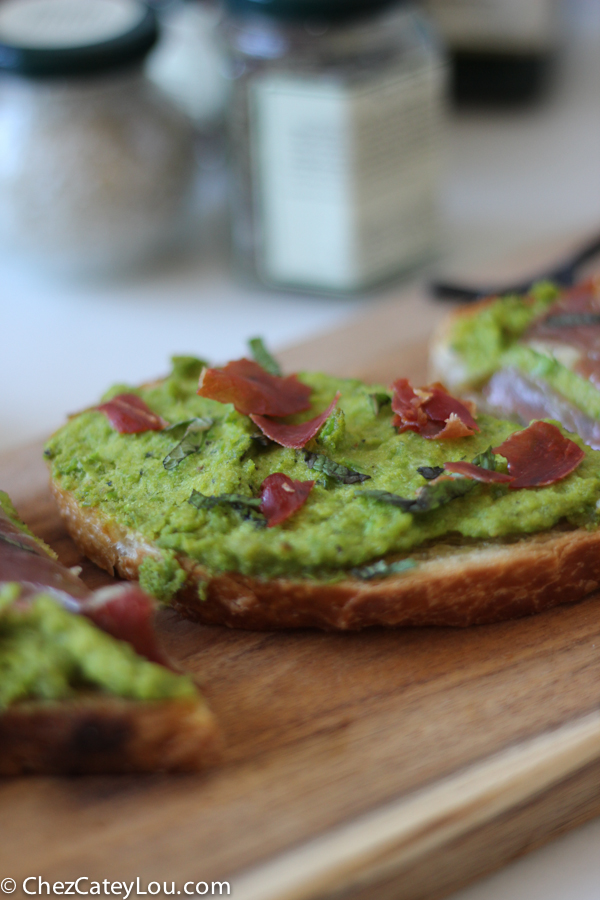 So while your bread is getting toasty and your prosciutto is getting crispy, make the minty pea butter mixture. This couldn't be easier – just throw everything in the food processor, blend it up, and you are done!
Then spread the warm toast with the pea mixture, and put it back in the oven to cook more. If you decided to skip the crispy prosciutto topping, then place a piece of prosciutto on top of each pea toast before it goes back in the oven. After 7 – 10 minutes, your toast is ready! Sprinkle it with chopped fresh mint, crispy prosciutto, and then drizzle with a little more olive oil.
Sidenote, my personal theory on why everything tastes so good at restaurants is because everything is topped with way more olive oil and salt than you think is on there.  Mmmmmm.
And there you have it! Minty Pea Prosciutto Toast! This makes a great small dinner or a perfect appetizer for a party.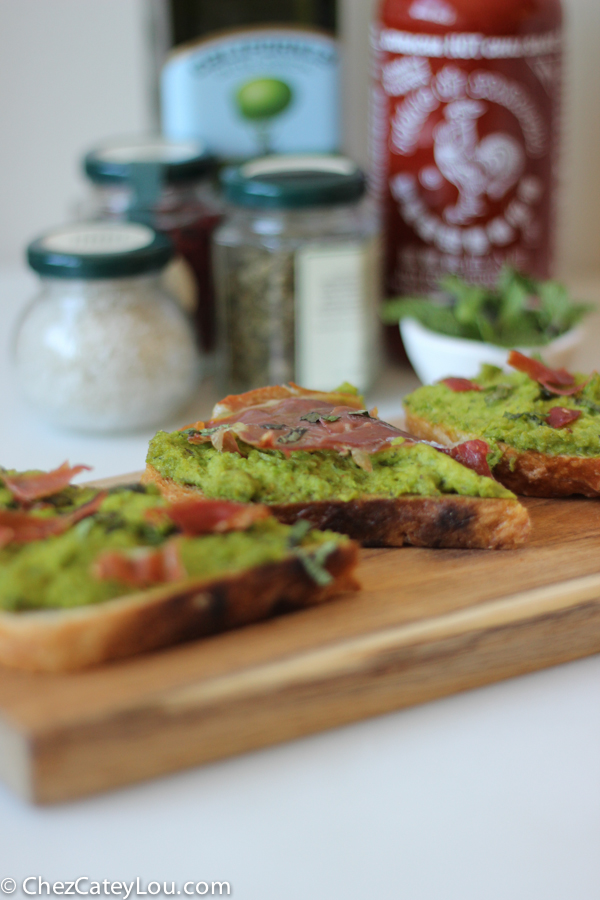 Check out all of the amazing recipes that my blogging friends made!  Everything looks so good!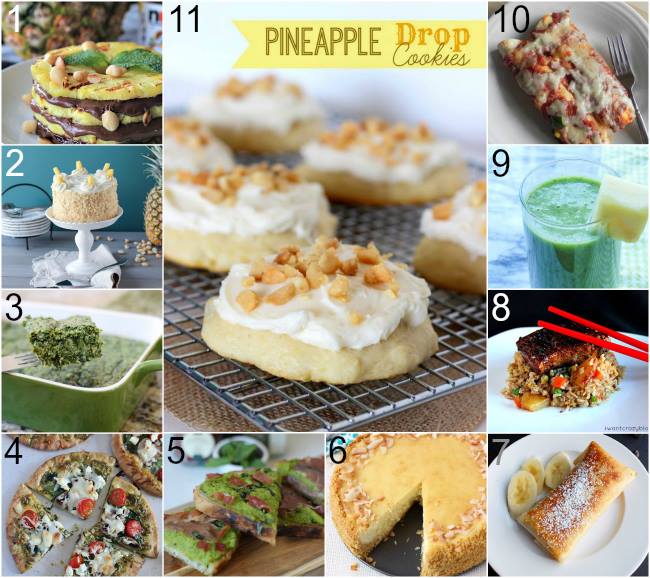 1. Grilled Pineapple with Nutella and Macadamia Nuts by Joyful Healthy Eats
2. Hummingbird Cake by Baking a Moment
3. Three-Cheese Spinach Squares by The Well Floured Kitchen
4. Easy Pesto Pita Bread Pizzas by Yummy Healthy Easy
5. Minty Pea Prosciutto Toast by Moi!
6. Pina Colada Cheesecake by Blahnik Baker
7. Chocolate Banana Cheesecake Chimichangas by Culinary Couture
8. Pork with Pineapple Fried Rice by I Want Crazy
9. Tropical Green Smoothie by The Dessert Chronicles
10. Spicy Chicken, Spinach and Corn Enchiladas by The Pajama Chef
11. Pineapple Drop Cookies by I Dig Pinterest
Minty Pea Prosciutto Toast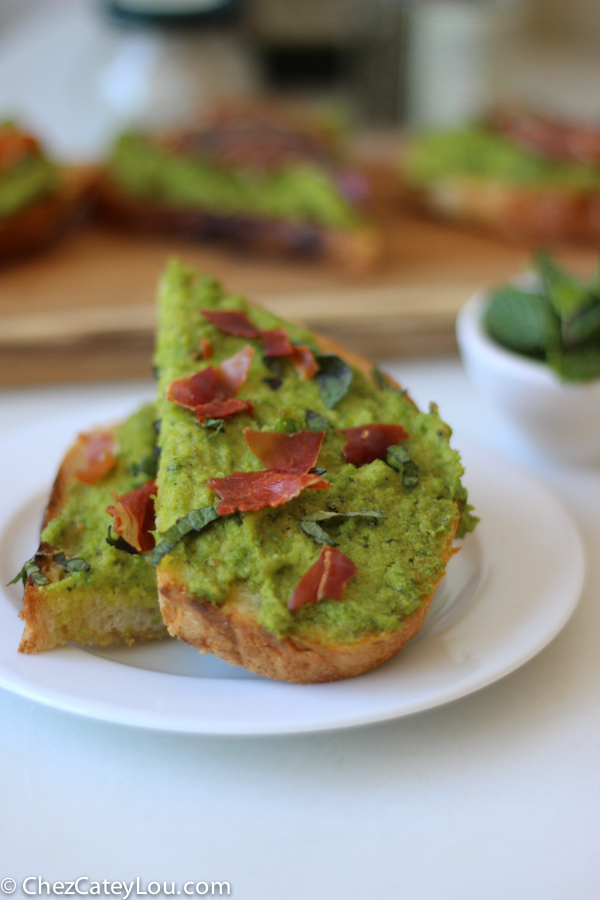 Ingredients
2 cups frozen peas, thawed
4 tablespoons unsalted butter, at room temperature
4 tablespoons cream cheese, at room temperature
1/4 cup lightly packed mint leaves, plus chopped mint for garnish
2 teaspoons Sriracha, or more to taste
Salt and pepper
4 - 6 slices of a hearty bread, like sourdough
Extra-virgin olive oil
4 - 6 slices prosciutto
Instructions
Preheat oven to 400 degrees F
Brush the bread with olive oil on each side, and arrange on a rimmed baking sheet. Toast for 8 minutes, turning once during cooking, until light golden brown.
Place the prosciutto on a wire rack placed over a rimmed baking sheet. Bake at the same time as the toast, for about 8 minutes or until the fat has rendered. Remove prosciutto from the oven and let it cool. It will crisp up as it cools, and then you will be able to crumble it into small pieces.
While the bread and prosciutto are toasting, combine the peas, butter, cream cheese, and 1/4 cup of mint in a food processor. Pulse until nearly smooth. Mix in sriracha, salt (about 1 tsp) and pepper (about 1 tsp). Taste the mixture and adjust seasoning.
Spread each toast with the pea butter mixture. Return toasts to the oven, and bake for 7 - 10 minutes.
Garnish the toasts with crumbled prosciutto, chopped mint, and olive oil, and serve warm.
Alternative: Instead of crisping the prosciutto, place a piece of prosciutto on top of the pea mixture on each toast. Bake for 10 minutes, or until the prosciutto starts to get crispy.
Notes
https://chezcateylou.com/minty-pea-prosciutto-toast/
© Chez CateyLou. All images & content are copyright protected. Please do not use my images without prior permission. If you want to republish this recipe, please re-write the recipe in your own words, or link back to this post for the recipe.
Want more toast? Try my Kabocha Squash Toast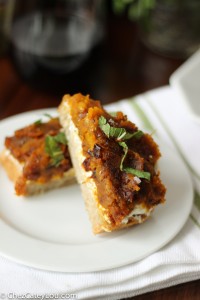 A look back at my past three Mystery Dish posts:
Dark Chocolate Chip Coconut Oil Cookies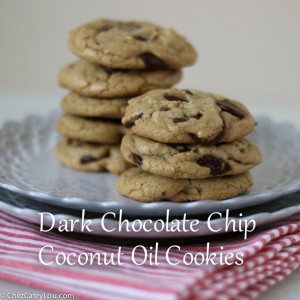 Sweet Potato Cranberry Quickbread