Sweet candied brown sugar bacon tops a savory and salty broiled parmesan cheese toast – these are good enough to be called the Best Appetizer Ever!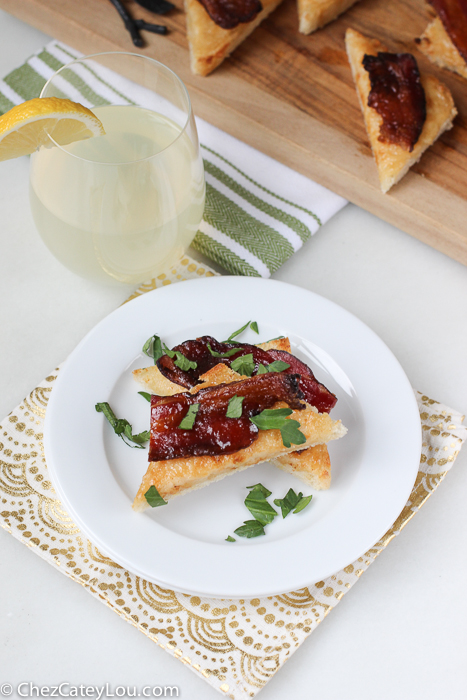 Parmesan Cheese Toast with Brown Sugar Bacon is quite a long name for a recipe…I should have just called it The Best Appetizer Ever. Because honestly – this really is the BEST appetizer ever. I mean first of all – brown sugar bacon, aka candied bacon, aka sugared bacon – that alone could be considered one of the best appetizers ever. Sweet and salty and crispy – I could eat an entire plate full of just that! But what makes this THE best is the parmesan cheese toast points. The combo of the nutty salty parmesan broiled on the toast and then topped with the bacon is nothing short of life-changing. Seriously.
Growing up, this appetizer was always served at family parties at our country club. Any get together HAD to include this hors d'oeuvres. And they were always the first to go. In fact at our wedding, we ordered double the amount of these because we knew that everyone would go crazy for them. And yet even after having these for years, I had never actually tried to make them myself. Well…now I know how to make them, and, I know how easy it is to make them – this is going to be dangerous. My brother has already requested that I make a giant platter for Christmas Eve!
…