Almond flour gives this loaf of yeast bread a slightly nutty flavor and results in an amazing texture. If you want to try baking with almond flour, this is the perfect recipe!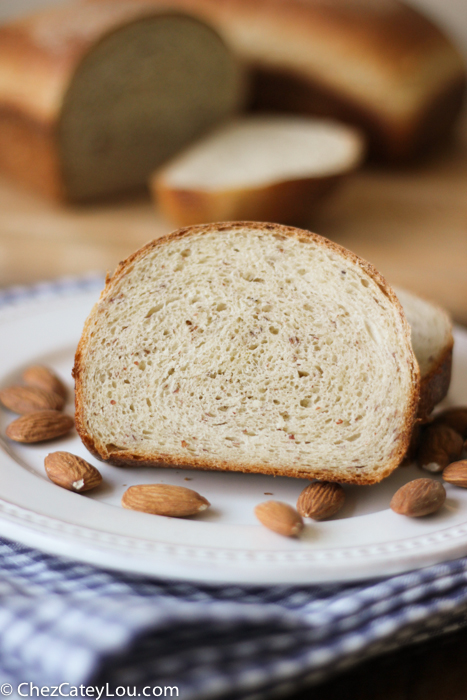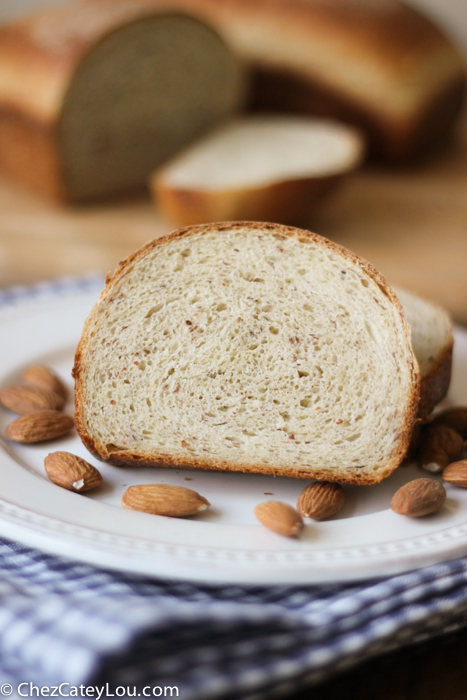 As you know from my many bread posts, I get really excited about my bread recipes. There is something so satisfying about baking your own loaf of bread. But today's loaf is very special, and therefore I am even more excited than usual. That's because it comes from this amazing cookbook
, which happens to be written by my lovely aunt, Barbara Bryant, along with Betsy Fentress. Ok yes, I am totally biased on this one, but seriously – it is a gorgeous cookbook that is all about Almonds!  It is full of the interesting history of almonds, beautiful photos, and tons of delicious recipes. I highly recommend checking it out.
I will be trying many recipes from this book (Soba Noodles with Spicy Almond Butter Sauce anyone?) but I knew the first recipe I wanted to try – Almond Flour Bread.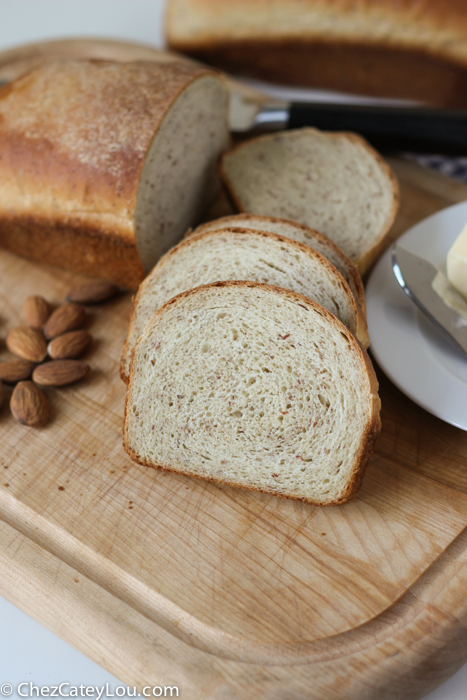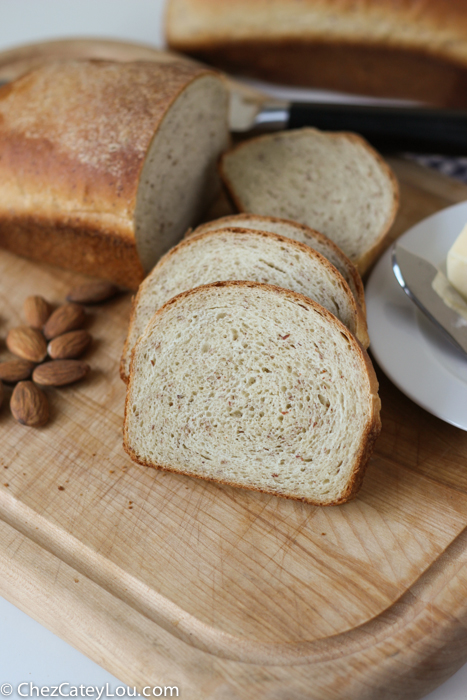 The amazing author of this cookbook, my aunt, was the person who taught me to bake bread! So of course I had to to try out her recipe. Plus, I had never baked with almond flour before and was very intrigued by it. I love the flavor of almonds, and was excited to try baking bread with it!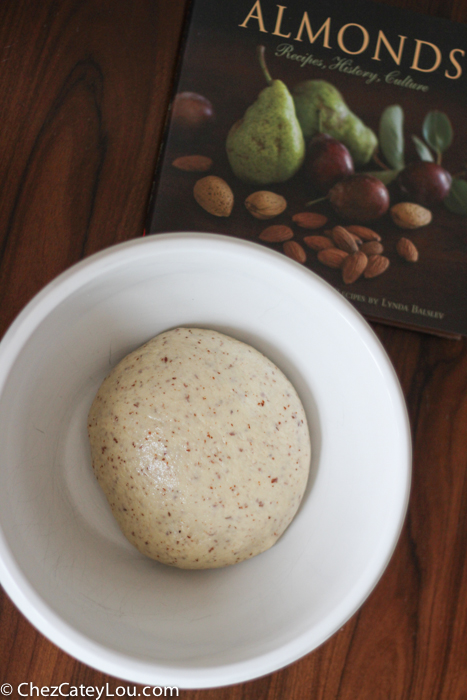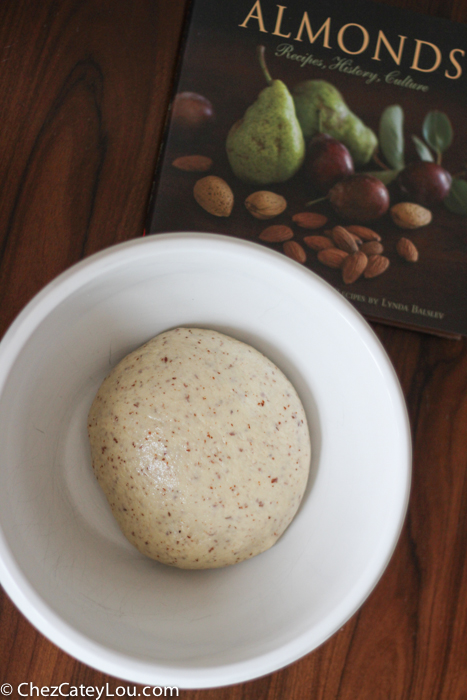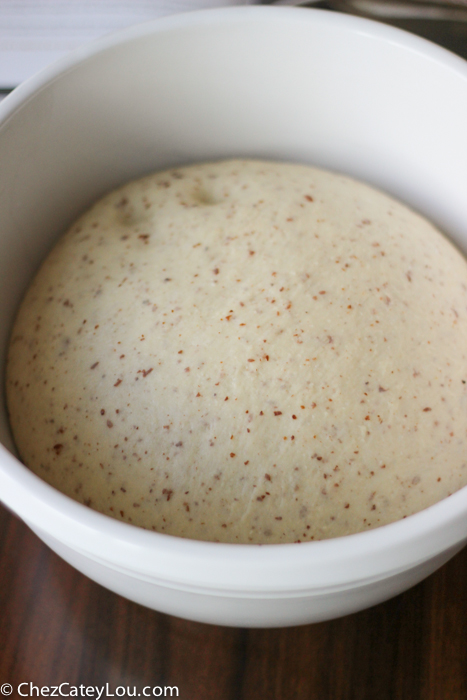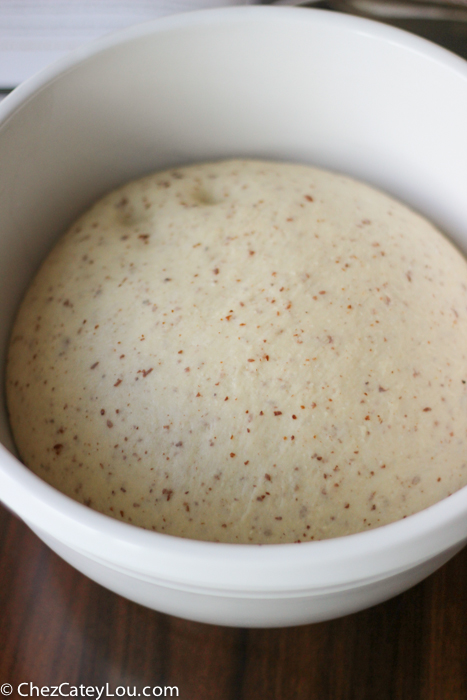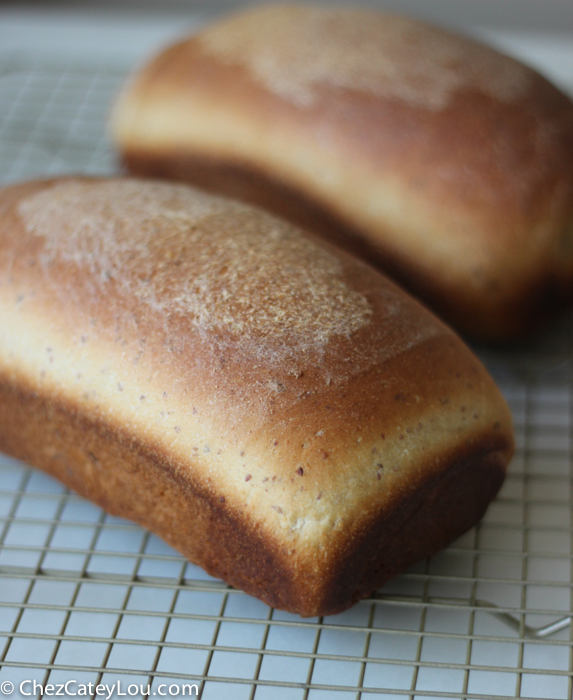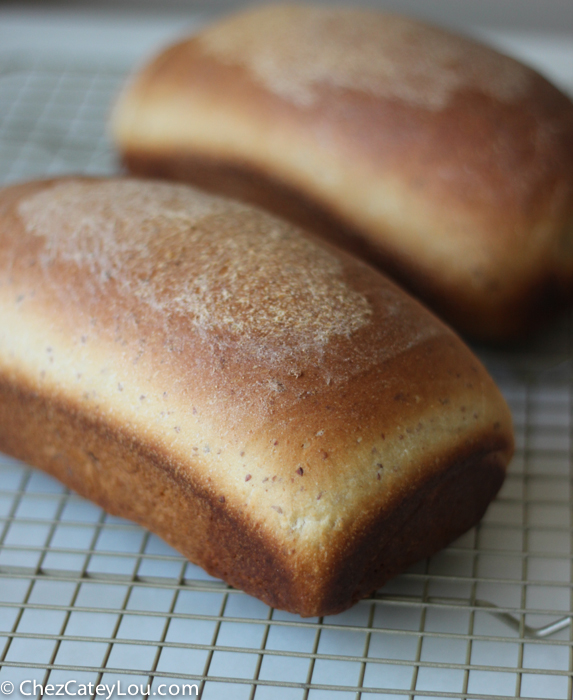 I got all my ingredients together to make this bread and started mixing the dough. It was only then that I realized, as a novice almond baker, that I had purchased almond meal rather than almond flour! Whoops. I did not realize that these were different things.
Almond flour is ground blanched almonds with the skin removed, whereas almond meal is ground almonds with the skin still on. I decided to just go for it and use the almond meal, and the bread turned out great! It is a bit denser than the almond flour bread, and therefore the loaves are a bit smaller. But the flavor and texture is great, and I actually like the look of the brown skin flecks in the bread. My co-worker is my official bread taste tester, and she said this was her favorite loaf yet!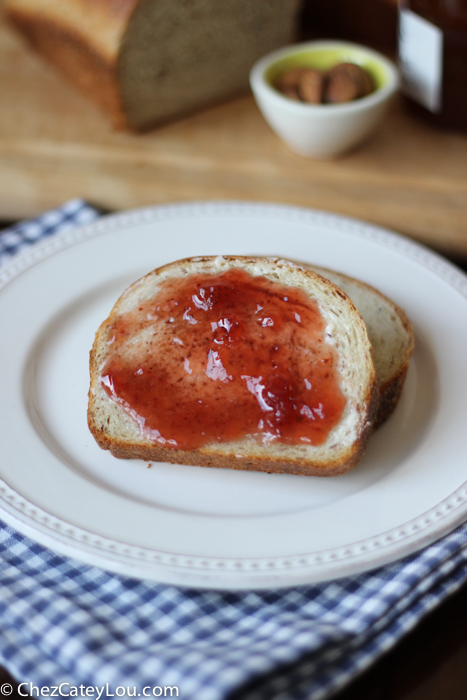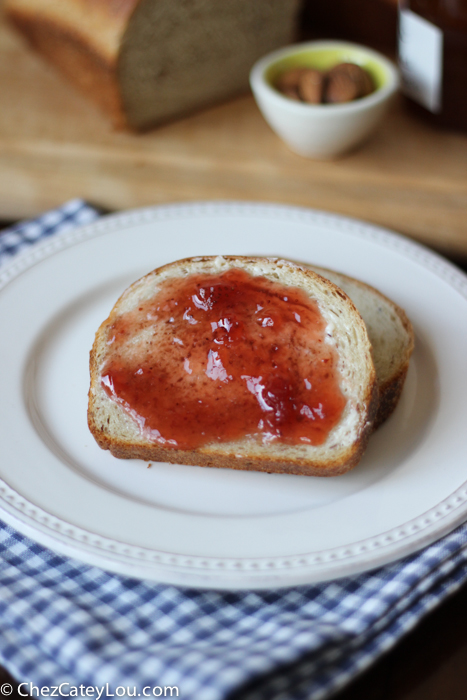 Other than the slightly unusual ingredient (almond flour) this bread is just like any other loaf of yeast bread. You mix together the ingredients, then knead the dough until it is nice and smooth. Let it rise until it has doubled in volume, then shape it into two loaves. Let it rise again, then bake it!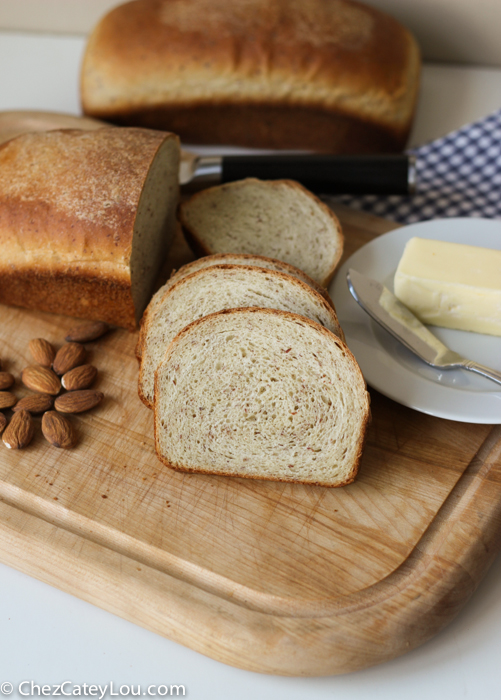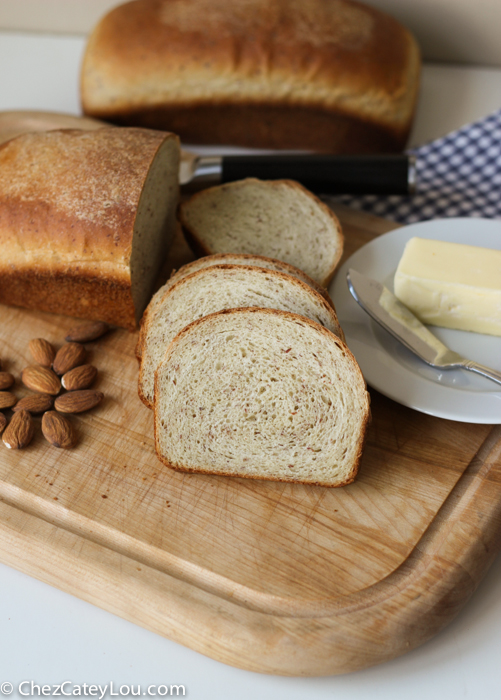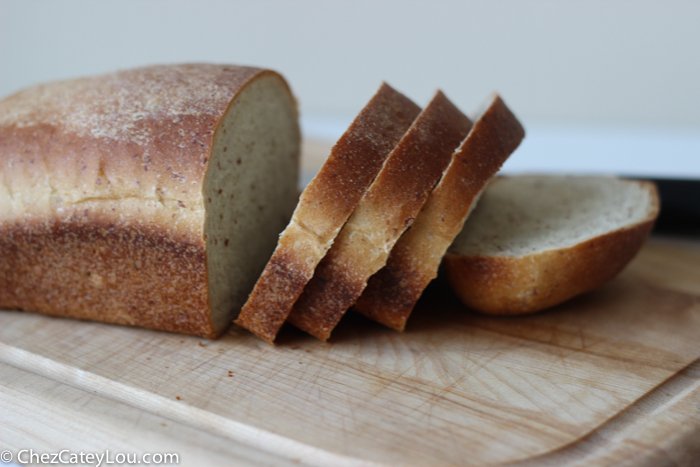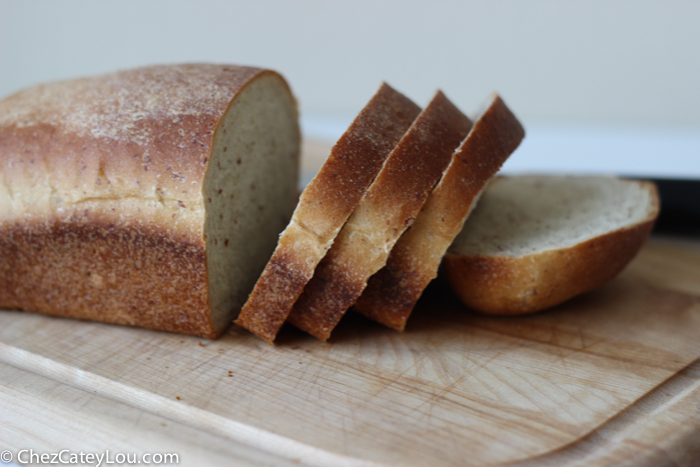 The almond flour / meal gives the bread a very subtle nutty flavor, and a touch of honey sweetens up the dough. The bread has a tight crumb, which makes it ideal for sandwiches or toast, and the flavor is amazing! Almond flour (I bought a bag of it after my little almond meal mistake!) will definitely be making more appearances in my baking repertoire.
And be sure to check out the Almonds: Recipes, History, Culture
 cookbook. It is a gorgeous addition to any cookbook collection, would look perfect on a coffee table, and would make a lovely gift for anyone!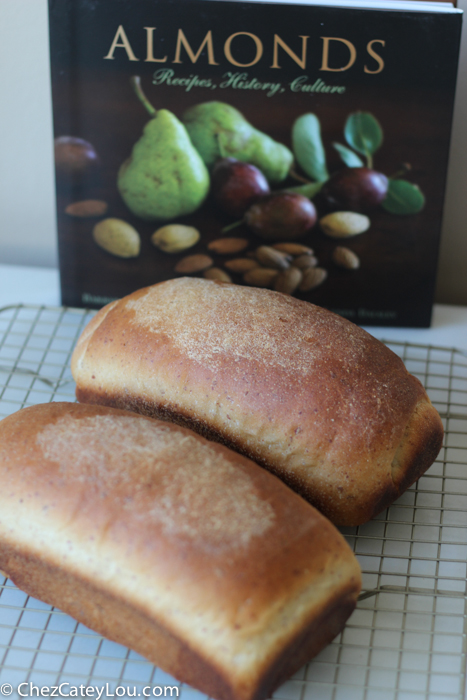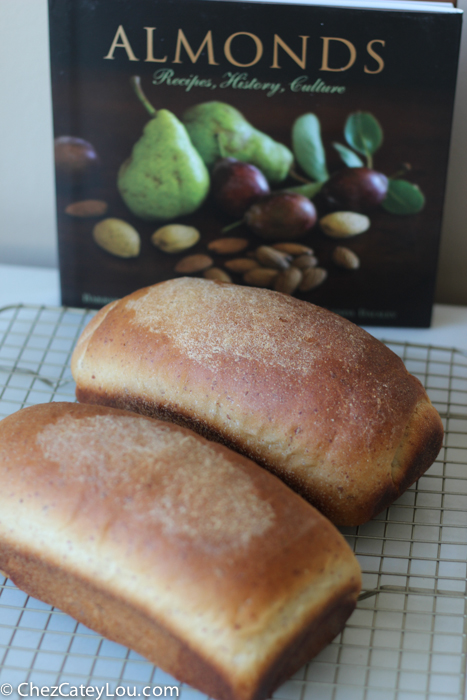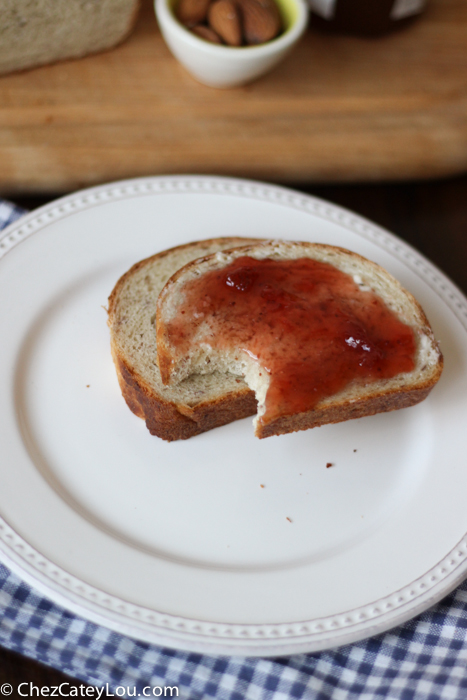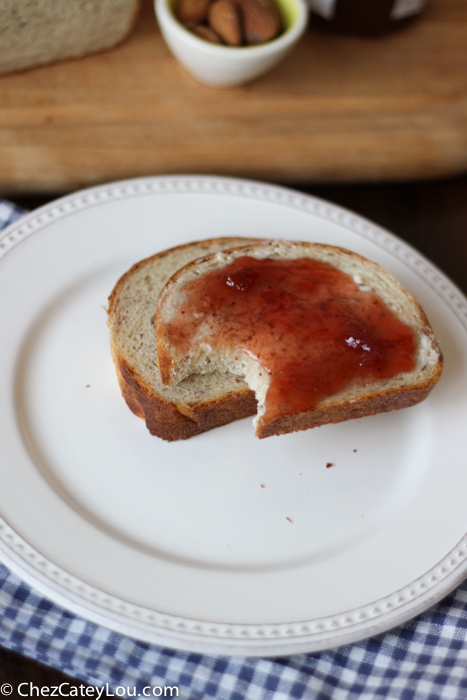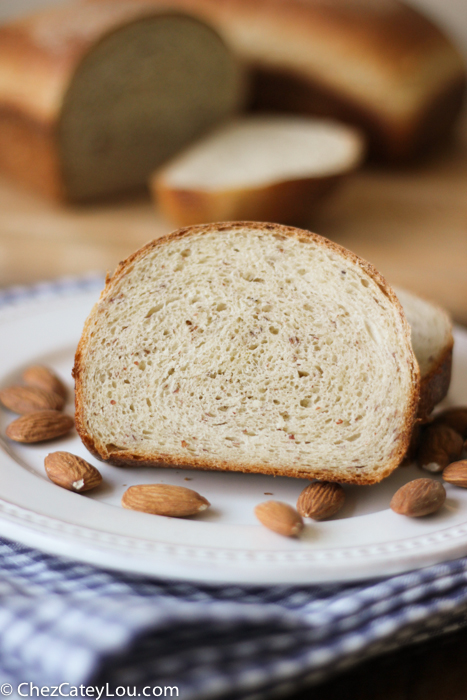 Almond flour gives this loaf of yeast bread a slightly nutty flavor and results in an amazing texture. If you want to try baking with almond flour, this is the perfect recipe!
Ingredients
4 cups (570 g) bread flour
1 cup (90 g) almond flour or almond meal (I used almond meal. The bread will rise more if you use almond flour)
2 1/2 teaspoons sea salt
1 package (2 1/4 teaspoons) active dry yeast
1 1/2 cups (375 ml) warm water (105 - 115 degrees F)
3 tablespoons honey
Instructions
In a large mixing bowl, whisk together the flours, sea salt, and yeast. In a small bowl or measuring cup, combine the warm water and honey. Add the water mixture to the flour, and stir until dough just starts to come together.
Turn the dough out onto a floured surface, and knead until it is smooth and elastic, about 5 minutes. Place the dough in a large bowl coated with oil. Turn the dough to coat all sides with oil, then cover the bowl with plastic wrap. Let the dough rest in a warm draft-free place until it has doubled in size, 1 1/2 - 2 hours.
Punch the dough down and transfer to a lightly floured surface. Divide the dough in half and shape each into a loaf. Place in two greased 8x4inch loaf pans. Cover with a piece of plastic wrap sprayed with nonstick coking spray, and let rise until doubled in volume, about 45 minutes.
Preheat the oven to 425 degrees F. Bake the bread for 15 minutes, then lower the oven temperature to 375 and bake for 15 - 20 minutes longer, until the bread is golden brown and sounds hollow when tapped on the bottom.
Turn the bread out onto wire racks, and cool completely.
Notes
Recipe from Almonds: Recipes, History, Culture
https://chezcateylou.com/almond-flour-bread/
© Chez CateyLou. All images & content are copyright protected. Please do not use my images without prior permission. If you want to republish this recipe, please re-write the recipe in your own words, or link back to this post for the recipe.
In the mood to bake bread but no almond flour on hand? I have some other great recipes for you!