Yellow cupcakes are decorated with a classic buttercream frosting, colored pink. These Baby Girl Cupcakes are the perfect thing to serve at a baby shower or birthday party!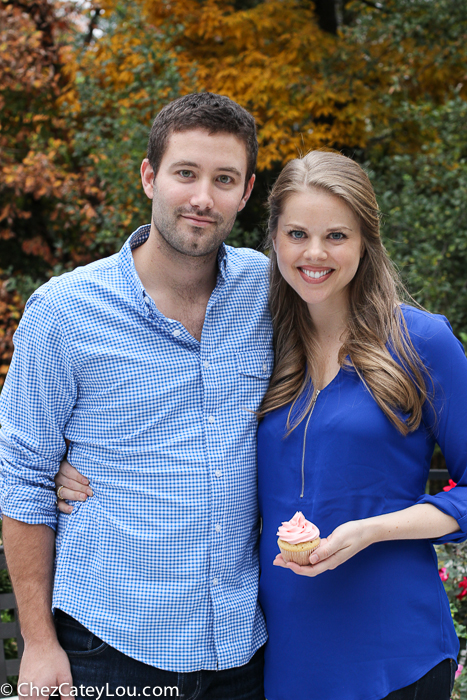 So the news I mentioned the other day….I'm pregnant! TheBetterHalf and I are expecting a sweet baby girl, due on March 28. We are absolutely thrilled, and can't wait to start this next chapter of our lives. I have been dying to share the news with all of you, and wanted to celebrate with the girliest treat I could think of – Baby Girl Cupcakes – aka yellow cupcakes with pink buttercream frosting.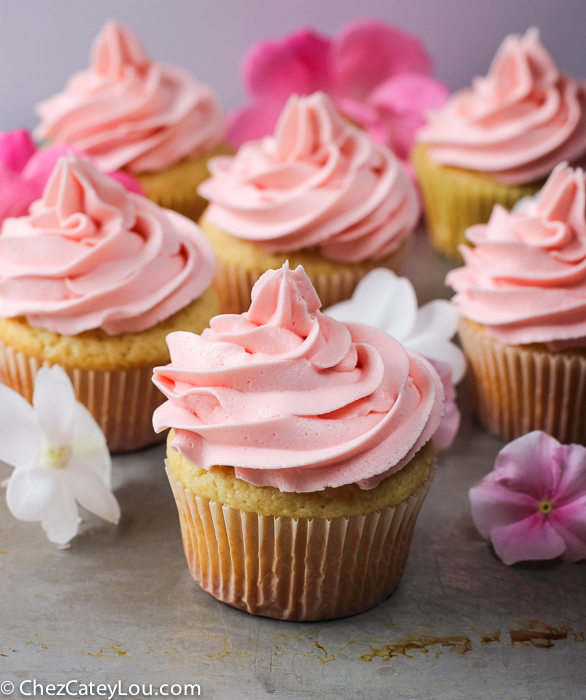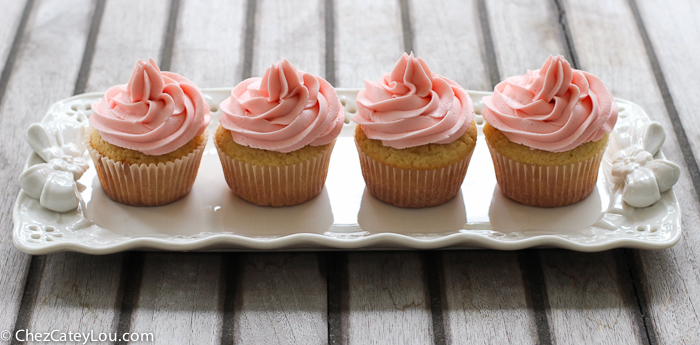 You might have noticed that I have been kind of absent from the blog the past few months, and now I can finally explain! The first trimester was no joke. I felt so sick pretty much all the time – actually eating something was hard enough, let alone cooking or baking it myself! I've never been more thankful for food delivery. NYC is pretty much a pregnant lady's dream city – you can get absolutely anything you want delivered to you at any time of day. Plus I was just exhausted all the time. It took everything I had to get out of bed in the morning and drag myself to work, so the blog was the first thing that got pushed to the backburner (followed by seeing friends, exercising, cleaning the house…pretty much all I did for 6 weeks was work and sleep!)
And…this is shocking…I lost my sweet tooth!!! That might have been the most alarming side effect of all! Luckily now that I'm in my second trimester, my sweet tooth is back and so is some of my energy. I probably won't be posting 2-3 times a week like I used to, but I am hoping to get back to a post or two a week. And what a perfect time of year to come back to blogging, with the holidays just around the corner. I love making fall food and baking holiday treats!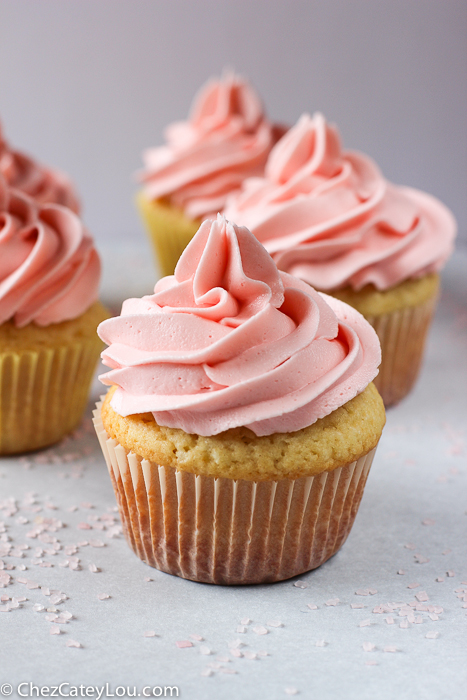 This is such a classic cupcake recipe – they are so simple to make and taste delicious. You can frost them with any kind of icing you like, but I went for a simple and classic buttercream frosting, colored pink in honor of my baby girl!  These would be the perfect treat to serve at a baby shower or a little girl's birthday party!
I used a Wilton Star Tip No. 21 to decorate these cupcakes with a simple swirl. I also played around with another design here: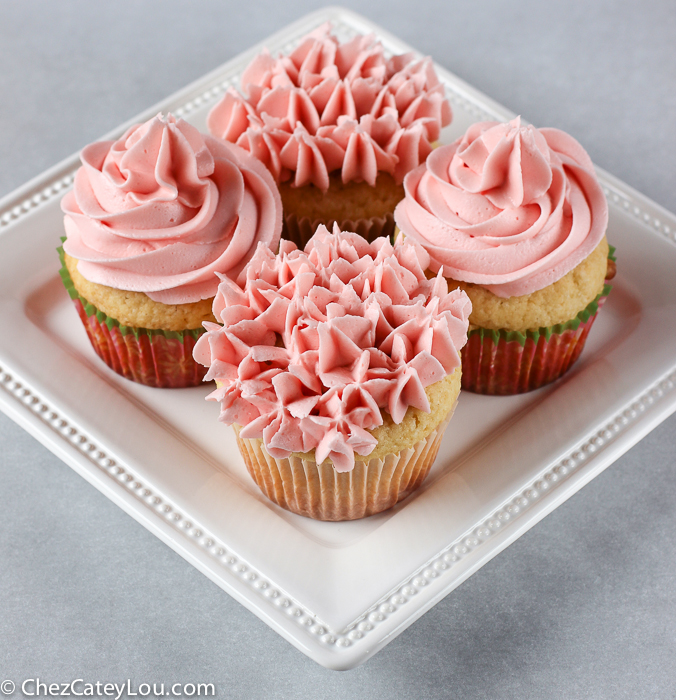 I liked the swirl better, but included a picture of the other way because I think it is kind of fun too!
To all of my pregnant and mommy blog friends and readers – any tips for me?! Can't wait to talk to all of you about this incredible journey.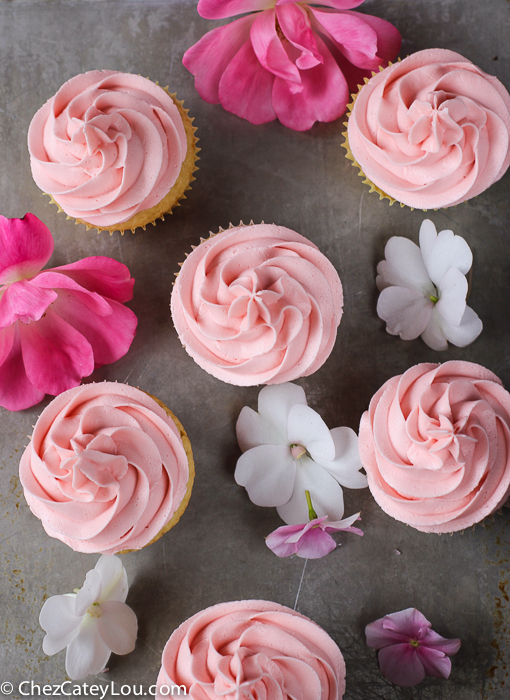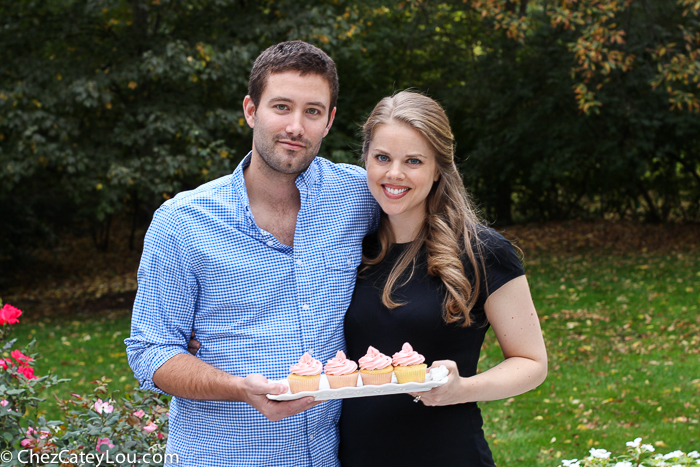 Yellow Cupcakes with Classic Buttercream Frosting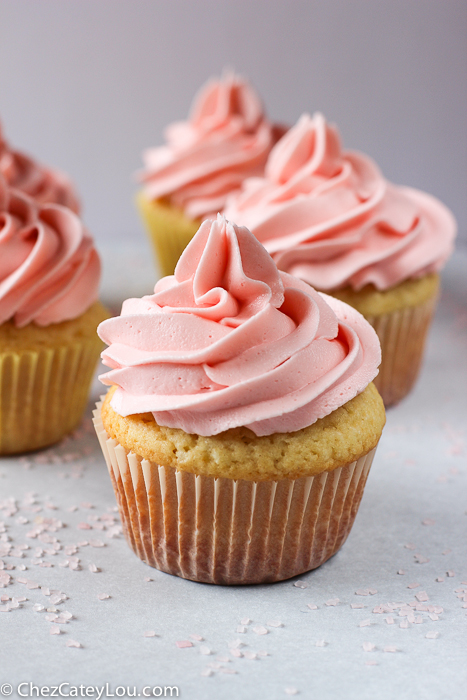 Yellow cupcakes are decorated with a classic buttercream frosting, colored pink. These Baby Girl Cupcakes are the perfect thing to serve at a baby shower or birthday party!
Ingredients
For the Cupcake

1 ½ cups all-purpose flour (7 ½ ounces)
1 cup granulated sugar (7 ounces)
1 ½ teaspoons baking powder
½ teaspoon table salt
8 tablespoons unsalted butter (1 stick), room temperature
½ cup Greek yogurt, room temperature
1 large egg, room temperature
2 large egg yolk, room temperature
1 ½ teaspoons vanilla extract

For the Frosting

2 sticks unsalted butter, room temperature
4-5 cups confectioners (powdered) sugar
dash salt
1 teaspoon vanilla extract
1-2 Tablespoons heavy cream
few drops red food coloring
Instructions
For The Cupcakes

Preheat oven to 350 degrees; line a 12-count muffin/cupcake tin with paper liners.
Whisk together flour, sugar, baking powder, and salt in a medium bowl.
In the bowl of a stand mixer fitted with paddle attachment, beat together butter, yogurt, egg, egg yolks and vanilla until just combined. Add the flour mixture and beat at medium speed until smooth, about 30 seconds - this is a thick batter. Use a rubber spatula to give the batter one final mix.
Divide the batter evenly among cups, filling each up about 2/3 full. Bake until cupcake tops are light golden brown and a toothpick inserted into center comes out with a few moist crumbs, 18 - 22 minutes. Transfer cupcakes to a wire rack to cool completely before frosting.

For the Frosting

In a large bowl, beat butter until smooth. Add 3 cups of powdered sugar and beat until well combined. Add salt, vanilla, 1 cup of powdered sugar and 1 T heavy cream and beat until well combined, smooth, and creamy. Add more powdered sugar or cream until desired consistency is reached. Add food coloring and mix well.
Frost the cupcakes as desired - I used a Wilton Star Tip No. 21 to make my swirl. To do this, snip off the end of a plastic food storage bag, and place the tip in the bag so that it comes out of the hole (or use a pastry bag). Fill the bag with frosting, and twist the top well to seal the bag. Squeeze the frosting on the cupcakes in a circular motion, starting from the outside and working your way to the cetner.
Notes
https://chezcateylou.com/baby-girl-cupcakes/
© Chez CateyLou. All images & content are copyright protected. Please do not use my images without prior permission. If you want to republish this recipe, please re-write the recipe in your own words, or link back to this post for the recipe.
Follow Chez CateyLou around the internet!
Pinterest | Instagram | Stumble Upon
All things pink!
White Chocolate Coconut Macadamia Nut Cookies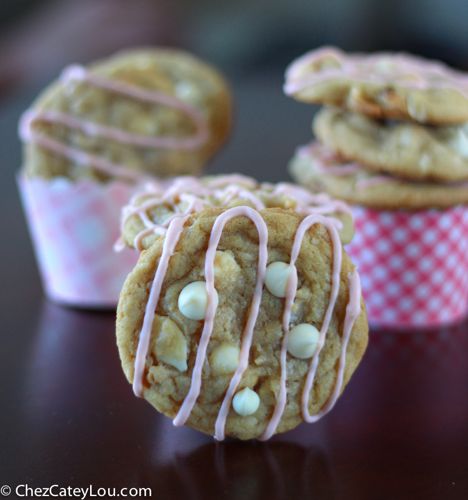 Chocolate Donuts with Strawberry Cream Cheese Icing