A copycat recipe for the amazing chocolate chip cookies from Levain Bakery in New York City. These enormous cookies are crispy on the outside, soft and gooey on the inside, and might possibly be your new favorite cookie.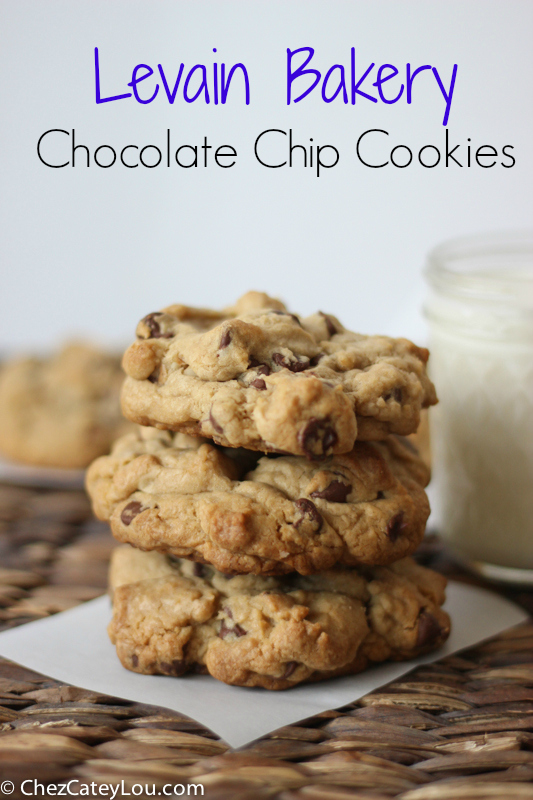 Guess what? It is national chocolate chip cookie week! A whole week dedicated to America's (and more importantly, TheBetterHalf's) favorite cookie. So to celebrate, some of my blogging friends and I are having a week-long chocolate chip cookie party!  Be sure to check out their sites this week for some amazing chocolate chip cookie recipes.
Now I love chocolate chip cookies, and have shared plenty of varieties on Chez CateyLou, but there is one recipe that I have been meaning to try and finally did– the famous Levain Bakery chocolate chip cookies!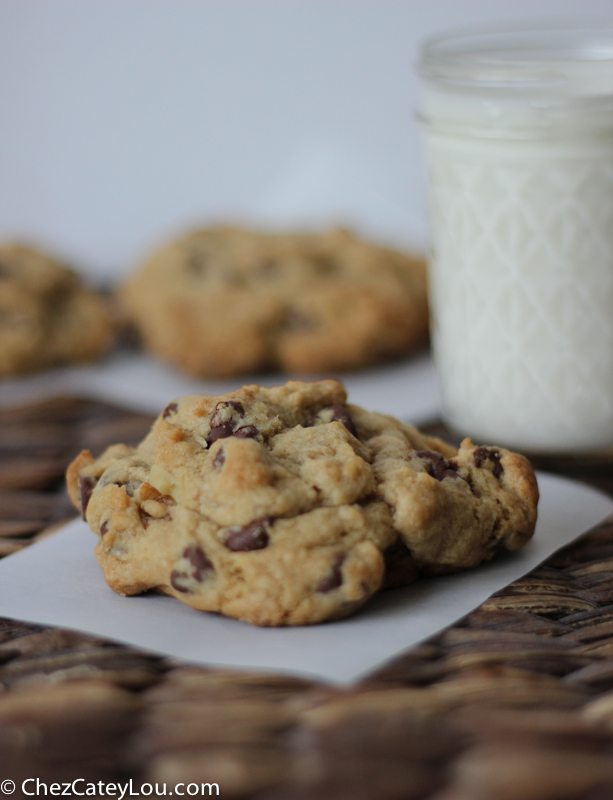 Levain is a bakery on the Upper West Side of New York, and they have some of the best chocolate chip cookies in the city! It is a tiny little shop, but their cookies are anything but tiny. They are seriously enormous! They sell four flavors – chocolate chip walnut, dark chocolate chip, oatmeal raisin, and our all-time favorite – chocolate peanut butter chip.
I can't even remember how I discovered Levain, but it was definitely love at first bite. I still can't go to the Upper West Side and not stop in for a cookie. But it is a good thing that I'm not up there often, because I have a slight problem when it comes to Levain cookies….I can't stop eating them. Seriously. They are addicting.
Their signature is that the cookies are served fresh out of the oven, so they are still warm and gooey in the centers. I mean try to stop eating a warm chocolate chip cookie. It really isn't possible. But of course when I go to Levain, I have to get a chocolate chip and a peanut butter chip cookie. And thus, I end up eating them all, and feeling sick every time I go. Every.Single.Time. I need to learn a little self control. Maybe someday.
There are a lot of copycat Levain recipes out there, but unfortunately they are all kind of a guess – Levain will not give out their recipe! I just called them to check…confirmed, they do not publish their recipe. But, Michelle at Brown Eyed Baker got pretty darn close with this recipe!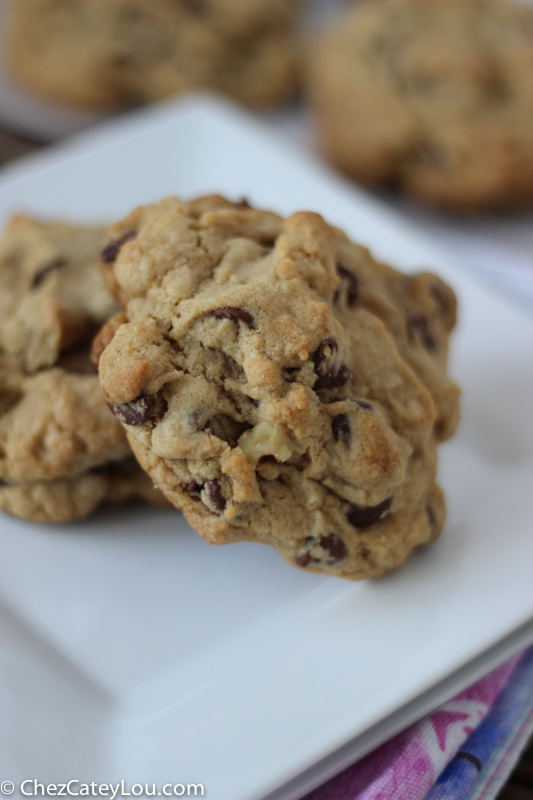 Some keys to a true Levain style cookie.
1) They need to be HUGE. I'm talking at least 4 ounces of dough. You're going to think that you are using too much dough…you are not. To get the authentic Levain cookie, you need an obscene amount of dough. There is a reason the cookies cost 4 bucks and weigh about 28 pounds.
2) The dough balls need to be chilled before they go in the oven so that they will get slightly crispy around the edges, but will stay super soft and doughy in the middle.
3) The dough balls need to be kind of free-form and rustic. Their cookies are not round and perfect but rather kind of craggy, for lack of a better word! So just grab a chunk of dough and plop it on the cookie sheet rather than rolling it into a nice ball.
4) Use bread flour instead of all-purpose flour.
5) Include walntus in the cookie dough. They do not have plain chocolate chip cookies at Levain – only chocolate chip walnut.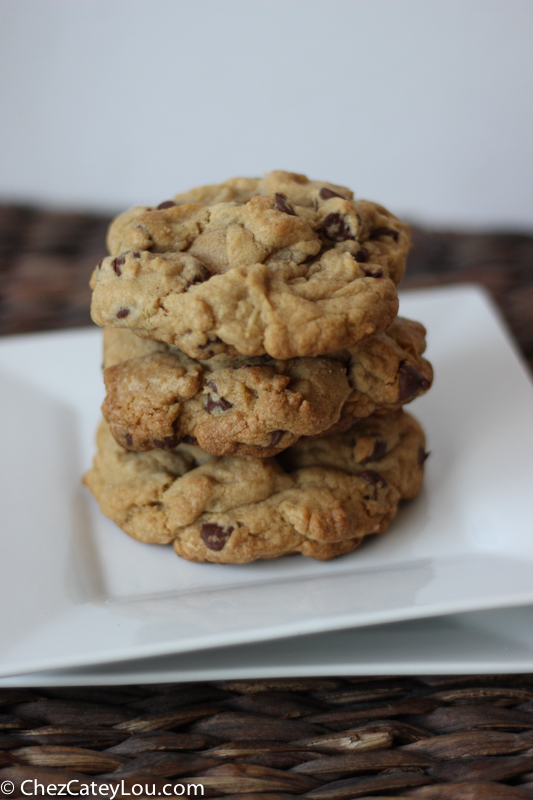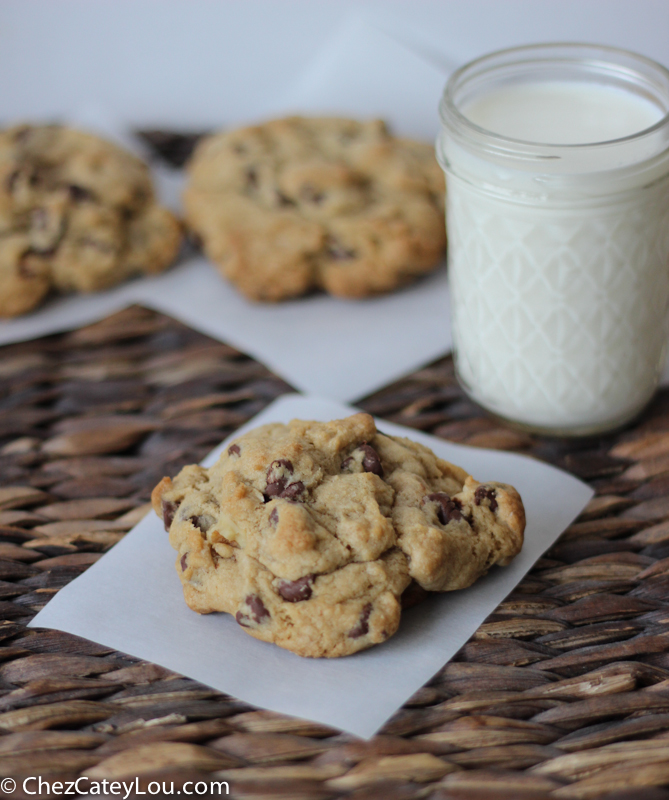 Ok if you want to cheat on number 5 and not add walnuts, I don't mind. I actually did half and half because even though I like nuts, I prefer my chocolate chippers without nuts.
A word about number 3 – I had a little bit of a hard time with this one. I'm so used to making my cookies round and perfect looking. But the first sheet that I baked just didn't look like Levain. They tasted great, but the look wasn't right. So with my second sheet, I took the perfectly formed dough balls, and just broke them into pieces. Then I kind of gently pushed the pieces together to form a mound and plopped them on the cookie sheets. Success! They really look so similar to Levain's.
These cookies are amazing fresh out of the oven (in true Levain style), but they are just as good the next day!
And if you are ever in NYC, stop by Levain and try one of their cookies to see how you think they compare! But a word from personal experience, try to share…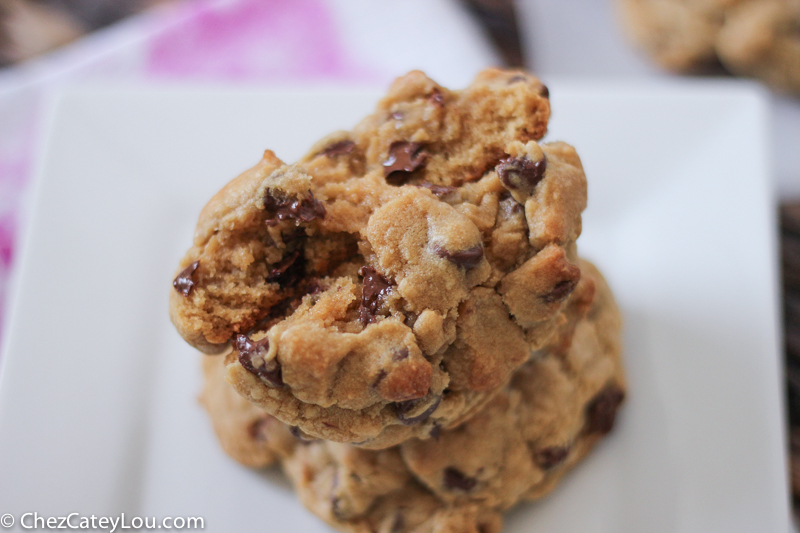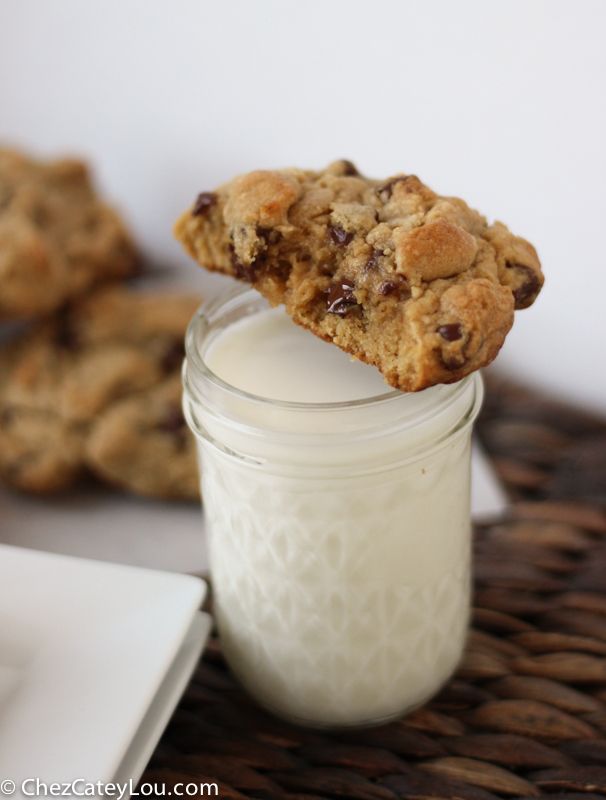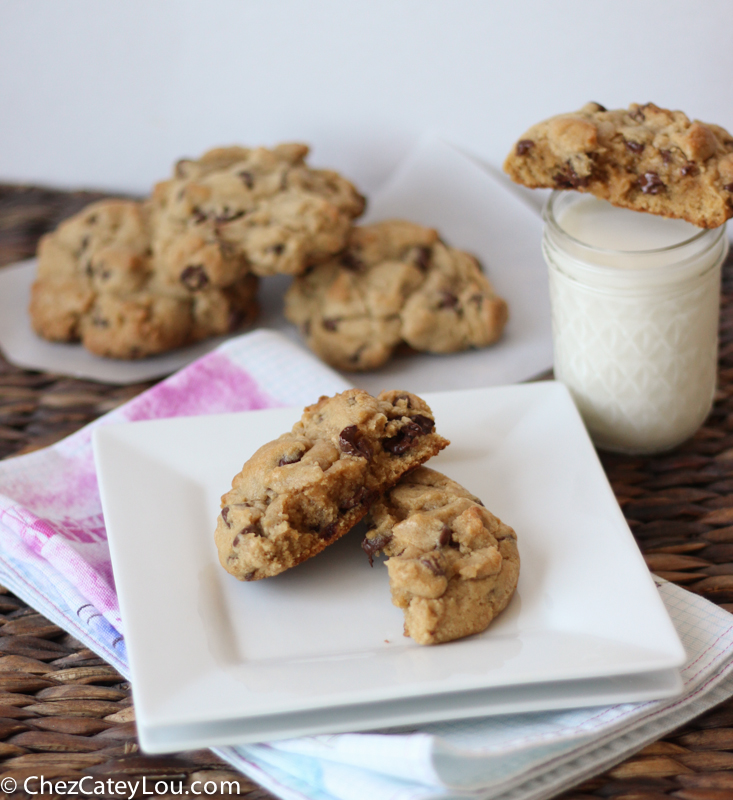 Levain Bakery Chocolate Chip Cookies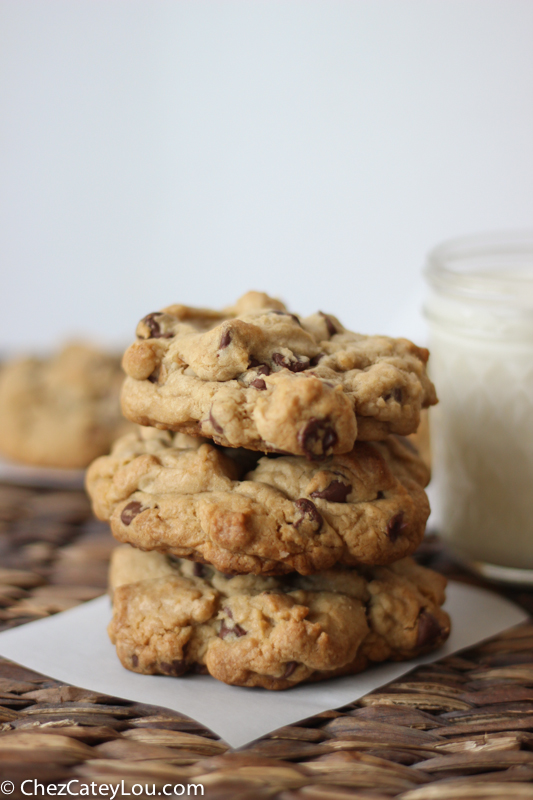 A copycat recipe for the amazing chocolate chip cookies from Levain Bakery in New York City. These enormous cookies are crispy on the outside, soft and gooey on the inside, and might possibly be your new favorite cookie.
Ingredients
3 cups (13½ ounces) bread flour
1 teaspoon baking powder
¼ teaspoon baking soda
¾ teaspoon kosher salt
1 cup unsalted butter, cold and cut into cubes
¾ cup + 4 teaspoons (6 ounces) light or dark brown sugar
½ cup granulated sugar
2 eggs, cold, lightly beaten in a separate bowl
1 teaspoon vanilla extract
1½ cups chocolate chips
1 cup walnuts, toasted and coarsely chopped
Instructions
In a medium bowl, combine bread flour, baking powder, baking soda, and salt.
In the bowl of a stand mixer fitted with the paddle attachment, beat the cold butter on medium speed for about one minute, until it comes together in one mass. Add the brown and white sugar, and beat for 1 - 2 minutes, until the sugar is well incorporated. Slowly add the eggs, then the vanilla, and mix until all ingredients are combined, scraping the sides of the bowls as needed. The batter may appear lumpy.
Turn the mixer on low, and slowly add the flour. Mix until it is just incorporated.
Stir in the chocolate chips and walnuts by hand.
Line a large plate or platter with parchment paper. Divide the dough into 10 pieces, about 4 ounces each. Roughly shape them into a ball, but do not make it too smooth and perfect looking. You want these to be mounds of rustic looking dough, not perfect dough balls.
Refrigerate dough for 30 minutes to an hour.
Preheat oven to 350 degrees F and line a cookie sheet with parchment paper or a silicone mat.
Place half the cold dough on the prepared sheet, spacing it a few inches apart. Bake for 16 - 22 minutes, until light golden brown on the top and edges. Let the cookies cool on the cookie sheet for 5 minutes, then remove to a wire rack to cool completely. Or serve them while still warm, like they do at Levain!
Notes
https://chezcateylou.com/levain-bakery-chocolate-chip-cookies/
© Chez CateyLou. All images & content are copyright protected. Please do not use my images without prior permission. If you want to republish this recipe, please re-write the recipe in your own words, or link back to this post for the recipe.
Connect with Chez CateyLou!
More cookie love!!
Nutella Stuffed Chocolate Chip Cookies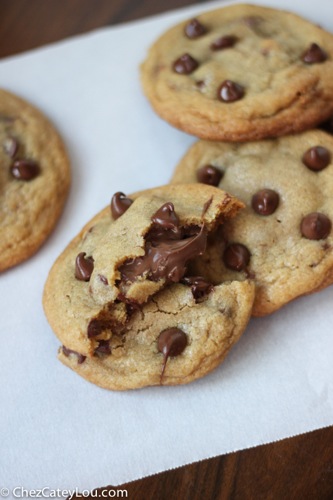 Red Velvet Chocolate Chip Cookies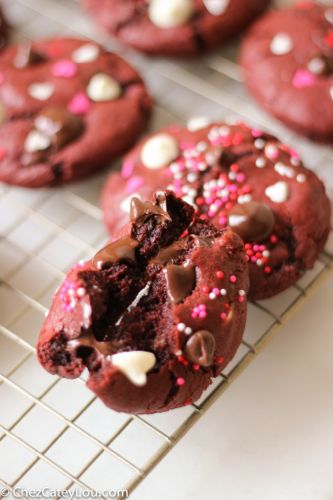 Salted Caramel Stuffed Chocolate Cookies