Brown rice is cooked with onions, tomatoes, garlic, and jalapenos making this Mexican Rice so flavorful and delicious! A great side dish for Cinco de Mayo!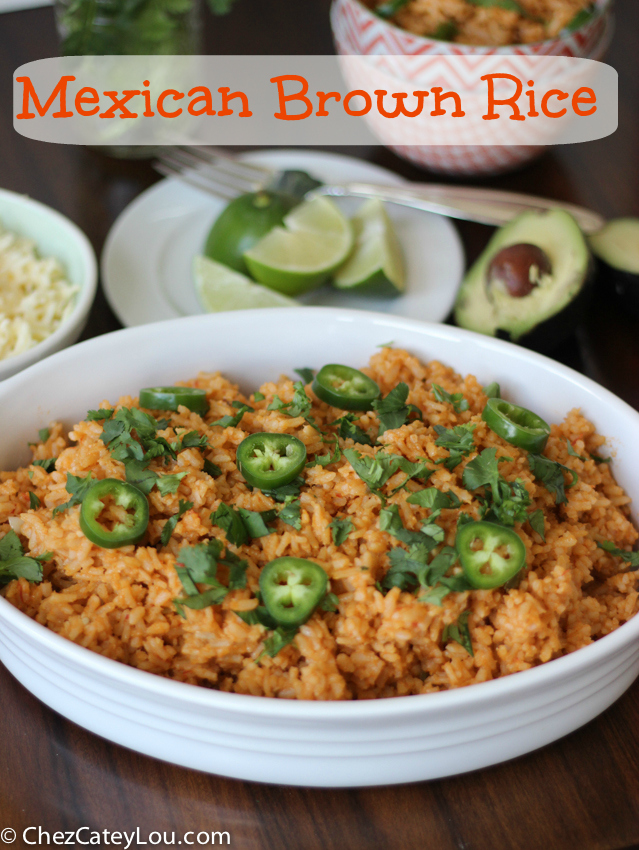 Happy Friday! And it is an especially happy Friday because it is Cinco de Mayo and Derby weekend. Aka lot of delicious food and great drinks. I wanted to post something for Cinco de Mayo, and visions of churros and fish tacos and magaritas were dancing through my head. And those ideas are still floating around to make this weekend, but I really wanted to go back to basics, Cinco de Mayo style, and make some Mexican Brown Rice.
Ok I know, it sounds kind of boring. But sometimes simple food is the best food. Like this Mexican rice – it is nothing fancy, just some brown rice with tomatoes, onions, and jalapenos (and a few other goodies!), but it is so good! Plus it is the perfect side dish to make for your Cinco de Mayo feasts.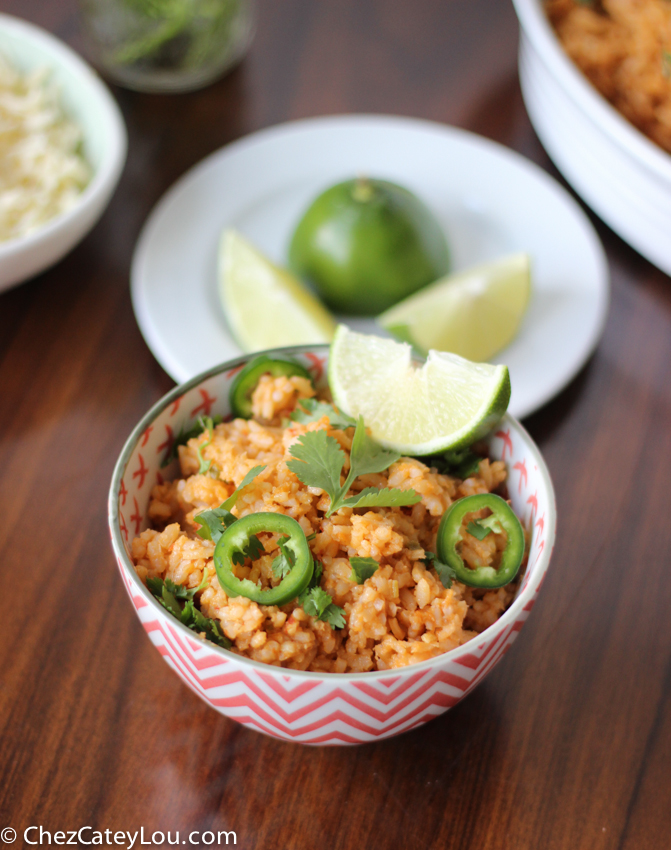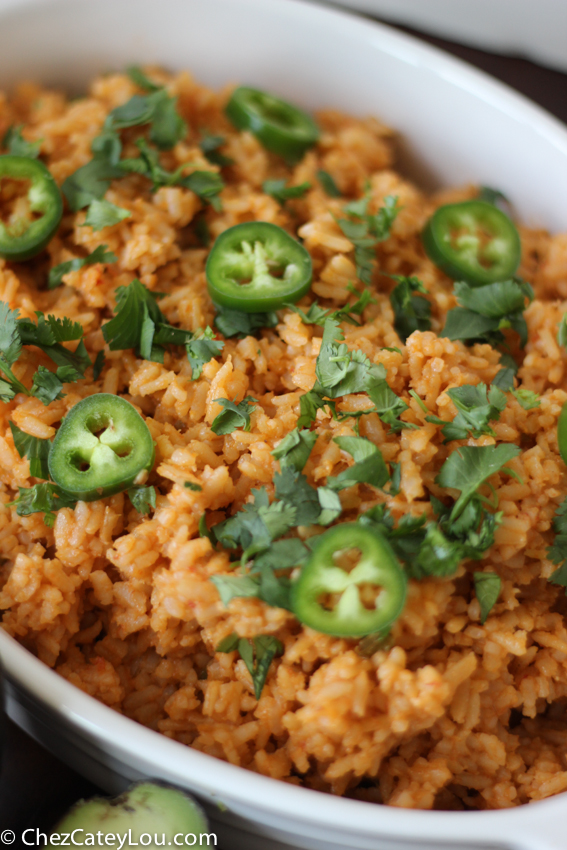 Ok also, I can't lie, I made this rice on Sunday so that we would have something healthy to eat for dinner after work on Monday! And we absolutely loved it. We topped it with fresh lime, cilantro, pepperjack cheese, and avocado. The flavors are amazing! Serve it alongside some seasoned grilled chicken and you have a healthy, delicious, and easy meal.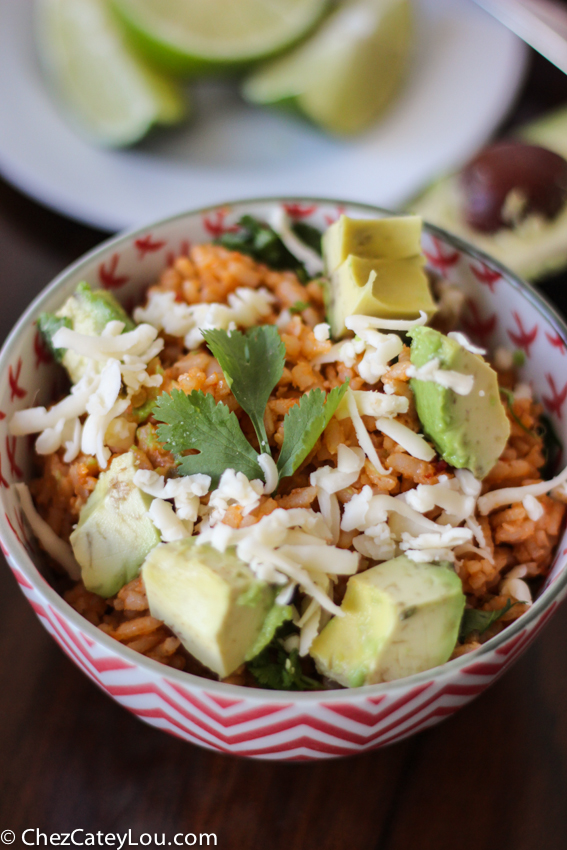 I love looking through the taste tests on Cook's Illustrated.  I think it is so great that they go through the trouble of testing every product so that we know what will taste the best! Major Nerd Alert, I know.  But in case you are also curious, the two types of long-grain brown rice they recommend are Goya Brown Rice
and Lundberg Organic
.
Hope everyone has a great, festive weekend!  What are you going to eat / drink?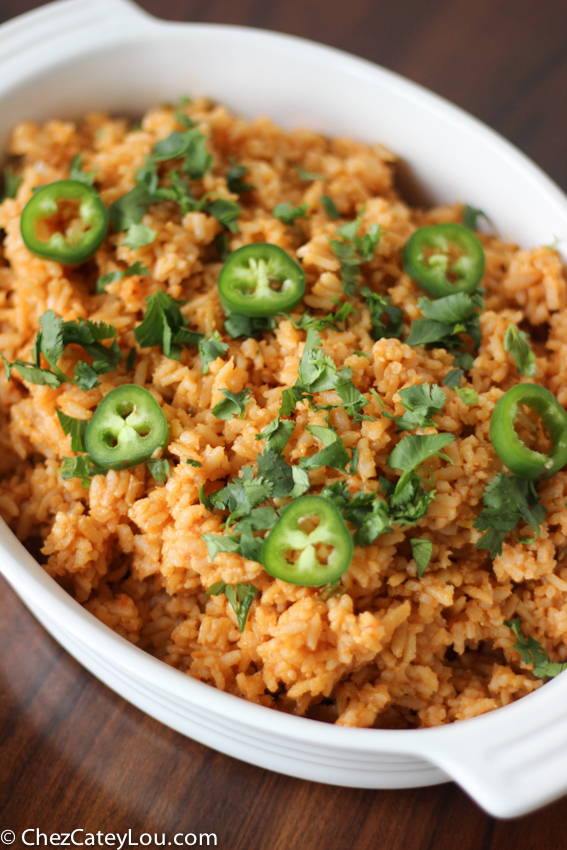 Mexican Rice made with Brown Rice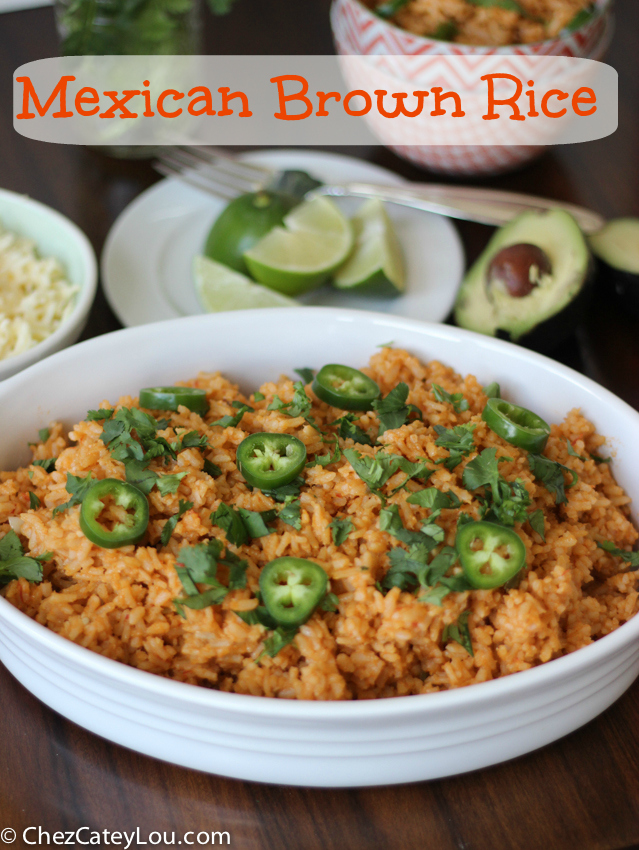 Brown rice is cooked with onions, tomatoes, garlic, and jalapenos making this Mexican Brown Rice so flavorful and delicious! A great side dish for Cinco de Mayo or just a normal weeknight dinner!
Ingredients
2 medium tomato (about 12 ounces), cored and quartered
1 medium white onion, peeled and quartered
2 medium jalepeno chili (plus 1 for garnish, if desired)
2 cups long-grain brown rice
1/3 cup canola oil
4 cloves garlic, minced
2 1/2 cups low-sodium chicken broth
1 tablespoon tomato paste
1 1/2 teaspoons table salt
1/2 cup minced fresh cilantro leaves
1 lime, cut into wedges for serving
Instructions
Preheat oven to 350 degrees.
Place tomatoes and onion in a food processor and blend until smooth. Transfer mixture to a liquid measuring cup - you want 2 cups of liquid. If you have more, throw out the excess.
Remove ribs and seeds from 2 jalepenos and throw away, then mince the 2 jalepenos.
Rinse the rice under cold water in a fine-mesh strainer for at least one minute. Shake rice in strainer to remove excess water.
Place oil in an oven-save 12-inch dutch oven or straight-sided sauté pan with a tight-fitting lid and heat over medium-high heat for 2 minutes. Drop a few grains of rice in the oil, and if it sizzles, it is ready. Add rice and fry, stirring frequently, until rice is light golden and translucent, 3 - 3 1/2 minutes. Reduce heat to medium and add garlic and mined jalapeno. Cook, stirring often, until fragrant, about 1 1/2 minutes. Add the tomato/onion mixture, chicken broth, tomato paste, and salt. Stir and then increase heat to medium-high. Bring mixture to a boil, then cover the pan/pot and move to the preheated oven.
Bake about 1 1/4 hours, stirring every 30 minutes, until all the liquid is absorbed and rice is tender. Add some chicken stock if the rice appears too dry before it is fully tender.
Stir in chopped cilantro. If more heat is desired, seed and then mince the 3rd jalapeno and stir in.
Serve the rice with a lime wedge, and squeeze fresh lime on just before eating.
Notes
Make sure you use an ovensafe pot / pan that is 12 inches in diameter. Otherwise, the rice will not cook correctly. The pan needs a tight fitting lid.
Recipe from Cook's Illustrated
https://chezcateylou.com/mexican-rice-made-brown-rice/
© Chez CateyLou. All images & content are copyright protected. Please do not use my images without prior permission. If you want to republish this recipe, please re-write the recipe in your own words, or link back to this post for the recipe.
You probably need a cocktail to go with this rice, right?
Clementine Rosemary Champagne Cocktail