Minetta Tavern in New York City is a great spot to have a celebratory dinner, sit for a drink at the bar, or grab one of the best burgers in the city.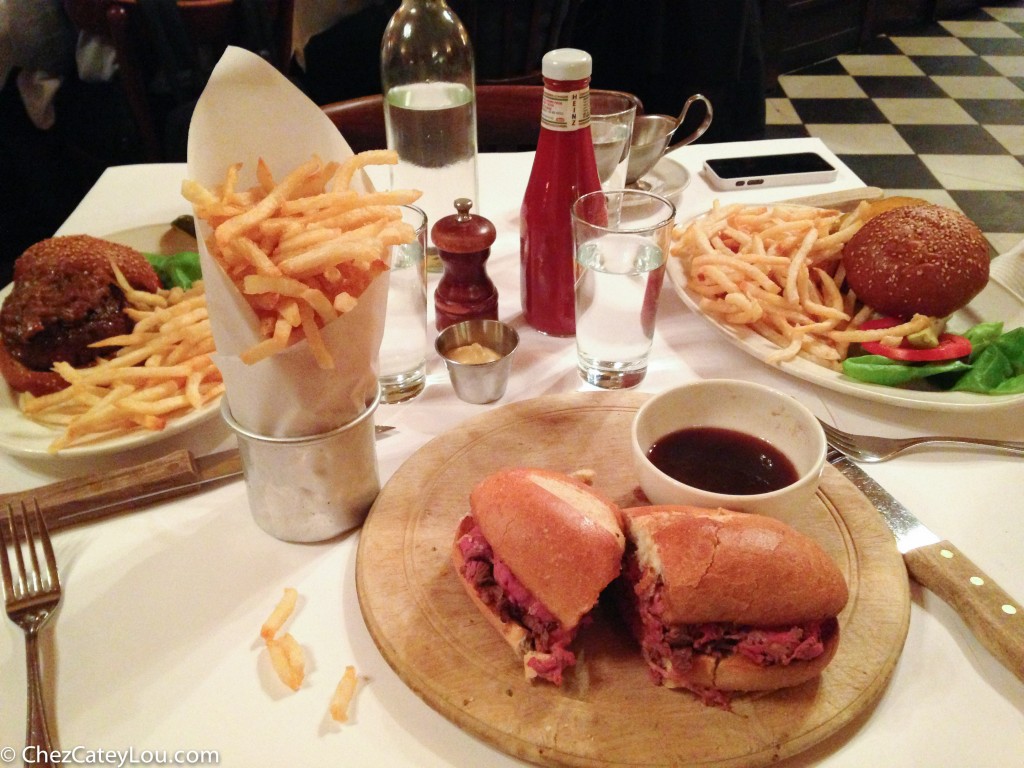 Another Friday, another look at one of our favorite restaurants in New York.   Minetta Tavern is located in Greenwich Village, a few blocks south of Washington Square.  The restaurant dates back to the 1930s but it recently underwent a facelift when it was taken over by restauranteur Keith McNally.  It maintains a good deal of old school charm –  dim lighting, red leather booths, and a classic cocktail bar – and has a menu full of updated takes on traditional dishes.  Minetta Tavern is perhaps most famous for their signature burger (and for good reason), but there's plenty more to this restaurant.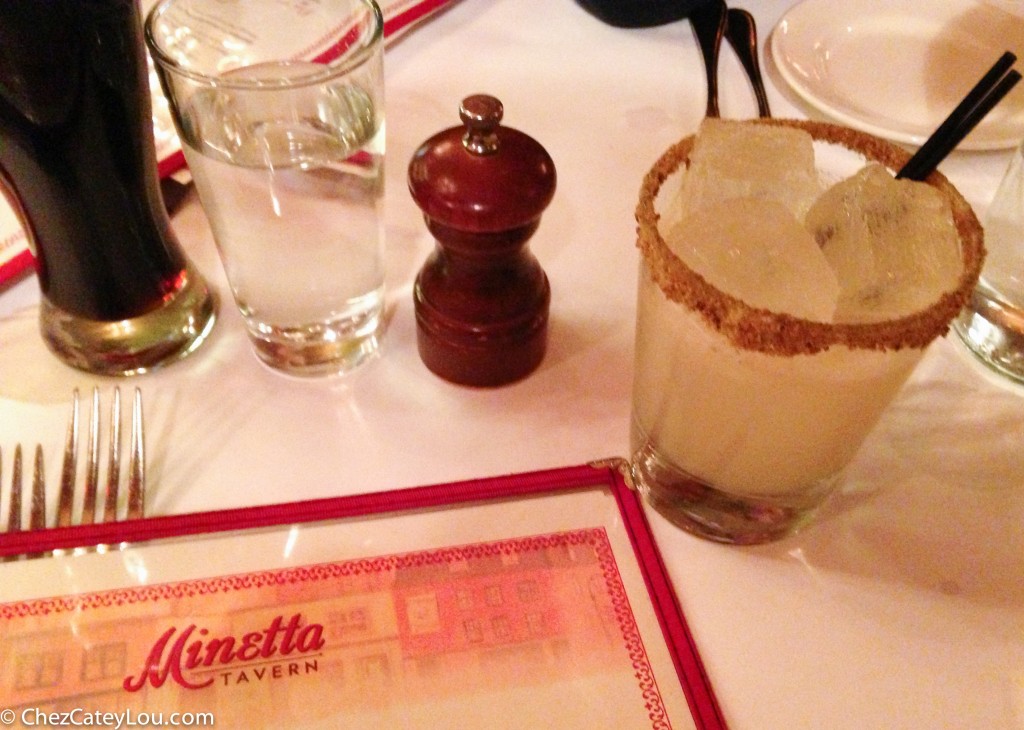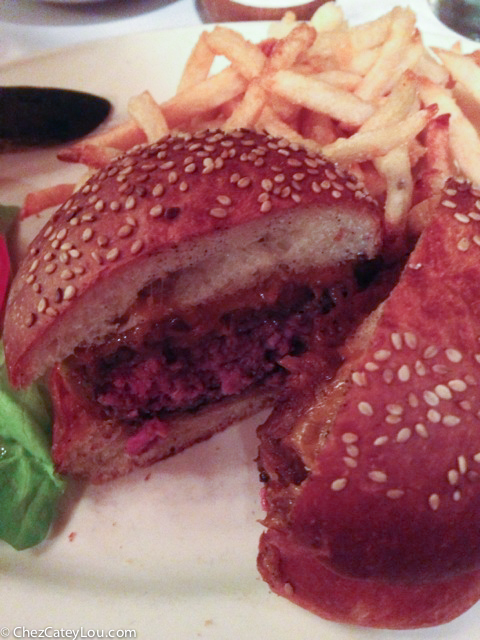 Let's get this out in the open right off the bat – the Black Label Burger at Minetta Tavern is my favorite burger in New York City.   There was a time when I preferred the Little Owl's Bacon Cheeseburger over the Black Label Burger, but no longer.   The burger, which clocks in at twenty eight bucks (which I've somehow convinced myself isn't outlandish), is a mixture of prime New York strip, skirt steak, and brisket.  The result is a burger that tastes like steakhouse quality dry-aged beef.  The burger is served on a toasted sesame bun and topped with caramelized onions.  Cheese is available upon request, but it is meant to be enjoyed without cheese because frankly, the burger doesn't need it.  The meat is that good.   And it's also served with my favorite fries in the city.  They are golden, crispy and salty.  They are similar to the fries at Baltazhar (another McNally restaurant) and basically the best version of a McDonald's french fry.   The dish is so great that burger lovers will have a hard time going to Minetta Tavern and ordering anything else.  I think I had the burger four times before I had the audacity to try another entree.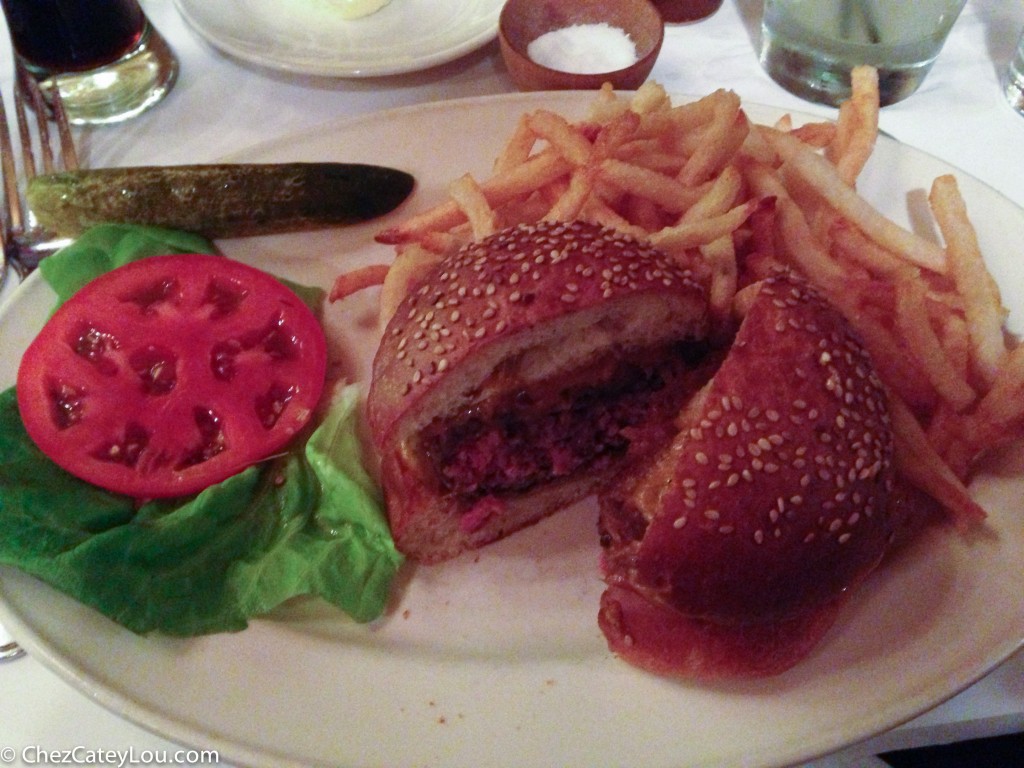 As good as the burger is, there's so much more to Minetta Tavern than just the Black Label Burger.  In fact, it's not even the only burger on the menu.  Cate, who doesn't love the flavor of dry aged beef, actually prefers the Minetta Burger.  Served with the same heaping helping of delicious french fries, the Minetta Burger has a more traditional burger taste (it is a mixture of prime beef short rib, brisket, and beef clod…. yes that's clog, not to be confused with the clod that I'm going to get from eating too many of these burgers) and is topped with cheddar cheese and caramelized onions.
Moving on from burgers (I know, it's hard), you'll find that Minetta is also one of the best fine dining establishments in the city.  The menu focuses on French staples but also has an excellent selection of steaks and chops.  Although it maybe on the adventurous side for some diners, my favorite starter is the bone marrow.  I actually had my first order of bone marrow at Minetta Tavern several years ago, and after sampling it at many other restaurants I can confidently say that their version is one of the best.  The deliciously seasoned marrow is served alongside small toasted baguettes.  Other standout appetizers include the veal carpaccio and the squid.  
For dinner, if you're going to venture outside the Black Label Burger, I suggest the Veal Porterhouse Chop.  This massive veal chop is served with black trumpet mushrooms and a reduced red wine sauce.  It is truly a marvel and looks just as good as it tastes.  Also, if you're lucky enough to have a dining companion who  likes their meat at the same temperature as you, I've heard the Dry Aged Côte de Boeuf for two is the best steak in the city.  And for $145, it better be.  
Insider Tips:
I know I say this every week, but if you're not lucky enough to get a reservation weeks in advance, go early and try to grab a seat at the bar.  Minetta's bar looks like something right out of Boardwalk Empire and it's a perfect spot to enjoy a burger and a cask beer.
Or go for lunch. Their lunch menu has a special french dip sandwich that is not available on the dinner menu.  The french dip is made with top quality beef and is so good you'll almost forget about the burger.  Almost.
I'd be remiss if I didn't mention the Pistachio De La Rosa, Cate's favorite cocktail in Manhattan.  The Pistachio De La Rosa is made with resposado tequila, Grand Marnier, pistachio syrup, and fresh lime juice, and is served in a glass with a pistachio coated rim.  The sweet pistachio rim is obviously Cate's favorite part of the drink.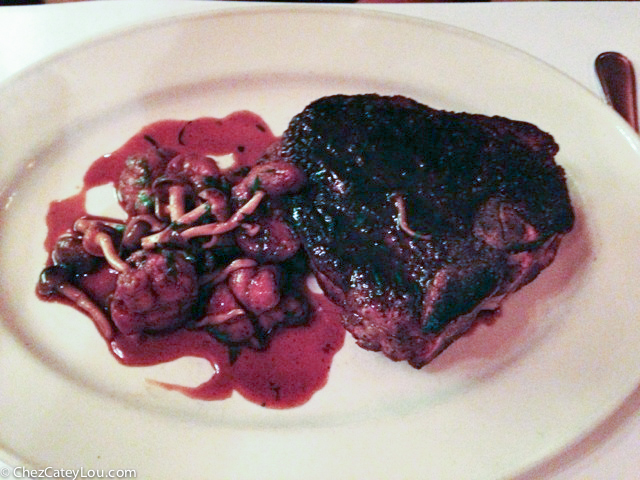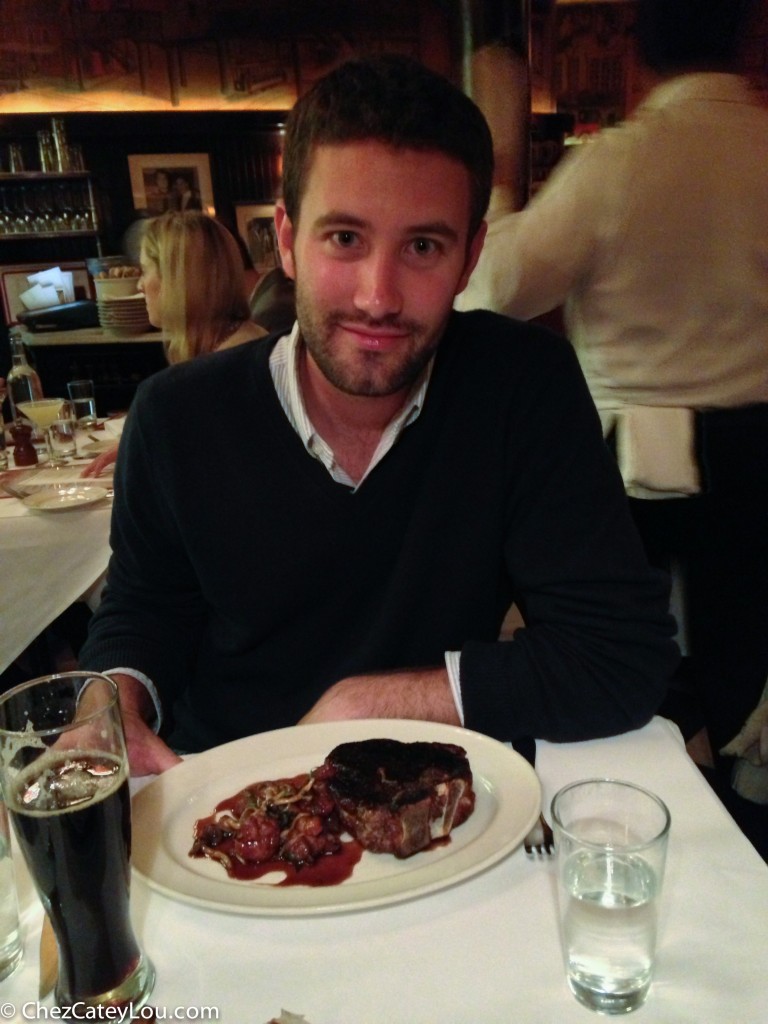 113 Macdougal Street
(Minetta Lane)
New York, N.Y. 10012
(212) 475-3850